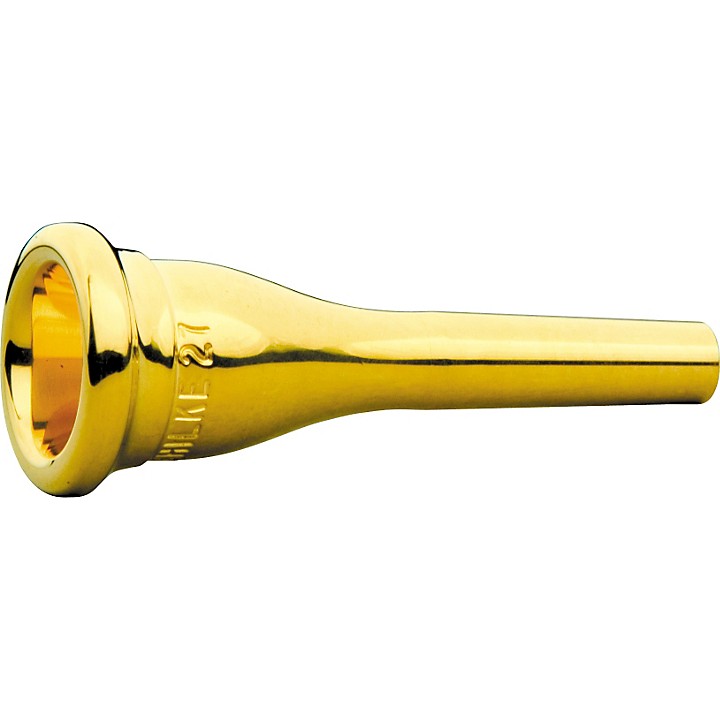 Renold O. Schilke had a profound influence on the development of brass mouthpiece design and pedagogy in the 20th century. His wisdom and insight have influenced several generations of performers, educators and students while setting the standard for other manufacturers. Today, Schilke Music Products continues to offer the highest level of expertise in assisting musicians when determining what mouthpiece might work best for their playing needs. The Schilke French Horn mouthpiece line was developed in collaboration with professional players and colleagues of Renold O. Schilke. These models were later determined to fill a specific need in the horn community from student, educator, to professional player. The rims and cups shape provide variety of options for the soloist, chamber, or orchestral hornist.
Specifications
27: 16.25mm, .640 inch cup diameter; 16, ,177 inch throat. A narrow diameter and thin rim creates a special mouthpiece for the first horn player.
28: 16.15mm, .636 inch cup diameter; 26, .147 inch throat. A true "French" model mouthpiece having a small cup and throat that definitely favors the high register. Recommended for the Descant Horn.
29: 17.53mm, .690 inch cup diameter; 17, .173 inch throat. Offers a balanced option that is very adaptable to both the younger player and the professional needing a stronger upper register with a large rim diameter, standard rim contour, cup, and smaller bore.
30B: 16.92mm, .666 inch cup diameter; 14, .182 inch throat. This model was designed with a smaller "B" style cup and thin, flat rim.
30: 17.03mm, .670 inch cup diameter; 17, .173 inch throat. The original Farkas Model, the wide rounded rim and fairly deep cup makes the 30 a good all-around mouthpiece for the experienced player.
30C2: 17.03mm, .670 inch cup diameter; 8, .199 inch throat. Based on a standard design, this mouthpiece has an excellent response in high or low range and a free-blowing feel. Recommended for both professional and developing players alike.
31: 17.14mm, .675 inch cup diameter; 13, .185 inch throat. This model has a V shaped cup, thicker standard rim and a slightly larger diameter to aid in producing a greater volume of sound.
31B: 17.40mm, .687 inch cup diameter; 14, .182 inch throat. A wide rim with a higher center point and a medium depth bowl shaped cup produces a rich, dark tone.
31C2: 17.43mm, .688 inch cup diameter; 14, .182 inch throat. The 31C2 has a very thin rim and medium-large cup offering a great volume of tone.
32: 17.83mm, .702 inch cup diameter; 2, .221 inch throat. The extra-large cup diameter, cup volume, and backbore produces a rich, dark tone color.
Features
Available sizes: 27GP, 28GP, 29GP, 30BGP, 30GP, 30C2GP, 31GP, 31BGP, 31C2GP, 32GP
Model number: The model number references 4 areas—Cup Diameter, Cup Volume, Rim Contour, and Backbore
Cup Diameter: Smallest numbers are the smallest diameter; diameter sizes increases as the number increases
Cup Volume: A—Small, shallow; B—Medium Small; C—Standard, medium; D—Medium Large; E—Large
Rim Contour: 1—Roundest; 2—Semi-Round; 3—Standard; 4—Semi-Flat; 5—Flattest
Backbore: a—Tight; b—Straight, slightly more open; c—Standard; d—Medium-Large, slightly curved out; e—Large; x—Piccolo, Extra Large
Finish: Gold
WARNING: This product can expose you to chemicals including Lead, which is known to the State of California to cause cancer, and to cause birth defects or other reproductive harm. For more information go to www.P65Warnings.ca.gov.