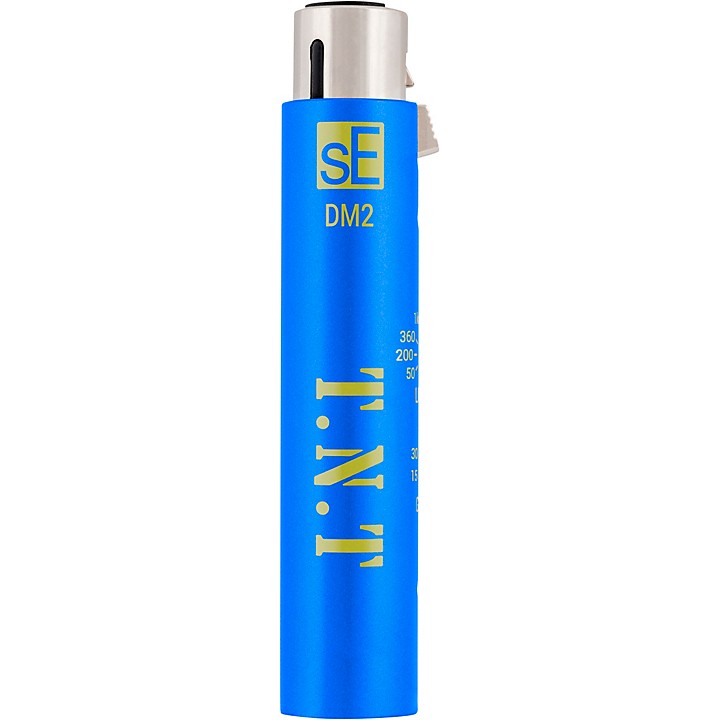 Active inline microphone preamp with integrated gain switch..
The sE Electronics DM2 T.N.T is an active inline preamp based on the acclaimed DM1 Dynamite but featuring even more gain, less noise and more flexibility so your precious go-to microphones shine like never before. With an integrated recessed gain switch, the DM2 T.N.T lets you choose between a moderate 15 dB or explosive 30 dB of clean, transparent gain for more headroom and a clean signal with an ultra-high impedance input and eight load settings to perfectly match your DM2 T.N.T with any microphone. Intended for direct connection to the output of a passive ribbon or dynamic microphone, the DM2 T.N.T streamlines the traditional inline preamp by eliminating the need for an extra cable, and its compact size makes travel convenient, so the gain you're looking for is always by your side.
Specifications
Frequency Range: 10 Hz - 120,000 Hz (-0.3 dB)
Gain: 28 dB (load 1kOhms)
Max output level (0.5% THD): 8.3 dBV (2.6 V)
Output noise level: 9 μV (JIS-A)
Powering: 48 Volts according to IEC 61938
Electrical impedance: 135 Ohms
Recommended load impedance: >1k Ohms
Current consumption: 3.0 mA
Connectivity: 3-pin male/female XLR connector
Dimensions: Diameter: 0.75" Length: 3.76"
Weight: 2.82 oz.