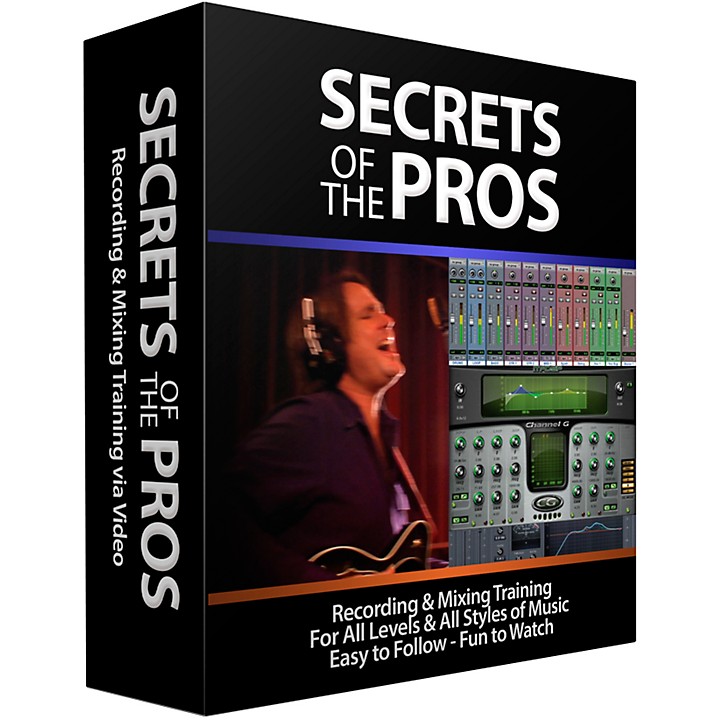 Recording and mixing is complicated … this video training series will make it easy and fun.
Guitar Center has teamed up with Secrets of the Pros to bring you high-quality, affordable recording and mixing training that will speed you through years of trying to figure out how to create, record and mix your music. Recording and mixing can be incredibly creative and fun when you have the right skills.

But going to popular online sites (YouTube, Facebook, etc.) will almost always lead you down the wrong path. If you are looking to create great sounding music for fun, or wanting to learn mixing techniques that will make your music sound like your favorite hit songs, or you'd like to expand your recording chops, Secrets of the Pros video training will teach you expert techniques for recording and mixing that you can use in any home or project studio.

This Secrets of the Pros Recording and Mixing Training is a 3-month subscription designed for both hobbyists and pros. It's a highly endorsed training system that speeds the viewer through all the basics and much more. This recording and mixing training is endorsed by four multi-Grammy Award winners, and will quickly show you how to make great sounding recordings in any studio.

It doesn't matter what style of music you create … rock, R&B, hip-hop, rap, jazz, country, folk … what you learn from this comprehensive series will speed you on your way, so you can create better sounding music with ease. The concepts and techniques shown will work on every style of music and help you spend more time creating music rather than reading manuals or searching the internet for answers.

About Secrets of the Pros
You will quickly learn to record and mix like a pro with this fun and easy-to-follow video series.

Secrets of the Pros spent years putting together an incredible series of videos that speed you through the most basic concepts. Then they give you an in-depth knowledge of how the best producers and engineers craft the songs you love. Recording and mixing is complicated, but this series will make it easy. It'll also take you into a pro studio with world-class players, and then show you how to do all of this in any home or project studio.

Over the course of several decades, Secrets of the Pros has had the opportunity to work with dozens of top name producers, engineers and artists … there are definitely common practices they use to sculpt the tracks you hear on your favorite songs and this series will show you how it's done.

This low-priced subscription includes all of Secrets of the Pros recording and mixing training, and all the new training that comes out during your subscription period.

Features
3-month subscription
Subscribe and stream videos to any device
Endorsed by a long list of pros and beginners
Improve your mixing skills with dozens of classic and modern techniques
Training covers almost every aspect of setting up, recording, mixing, MIDI and more
Learn basic and advanced ways to use EQ, compression, delay, reverb and more
Applies to all styles of music, and all types of software
Over 35 series with well over 200 easy-to-follow videos
Your instructors are highly experienced and have worked with top names in every genre of music