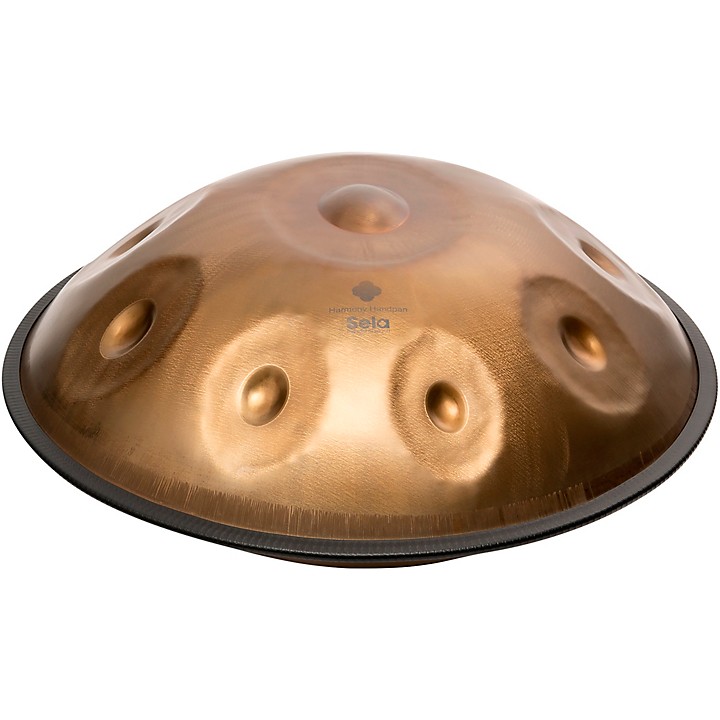 The Sela Harmony Stainless Handpan F Low Pygmy is crafted from two stainless steel bowls in an intricate process producing a fascinating instrument that combines a basic sense of rhythm with expression, originality and melody. Elaborate hand-hammering establishes a central note at the top of the pan surrounded by eight relative pitches for a perfectly tuned 9-note scale across the ergonomic contour of the bowl. Artistically designed for anyone to play anywhere, the soulful, soothing and ethereal handpan experience is as simple as your curiosity or complex as your passion.

Features
The Sela Percussion Warranty
Sela Handpans Warranty - 2 Years, are guaranteed against defects in materials and workmanship for the period of two years from the documented original date of purchase. The Sela warranty applies to unaltered products properly stored, transported, played properly and used for their intended purpose. Claims related to negligence and extreme conditions will not be considered. In the rare event a handpan requires retuning during the warranty period, Sela will provide the original purchaser with shipping instructions to its U.S. tuning center at purchaser's expense, then return the returned handpan at no additional cost—one occurrence only. Sela recommends saving the original carton for safe and efficient shipping of the handpan. Contact Jim Uding at Sela Percussion/St. Louis Music at jimuding@stlouismusic.com with any questions or concerns.
Warranty Limitations
Sela warranties are extended to the original purchaser, cannot be transferred and require an original, clearly dated retail receipt. This limited warranty is made in lieu of all other warranties, written or implied and is subject to the limitations contained herein. Under no circumstances will Sela accept responsibility for incidental or consequential damages of any nature whatsoever. Some states do not allow implied warranty limitations and may affect those residents differently.