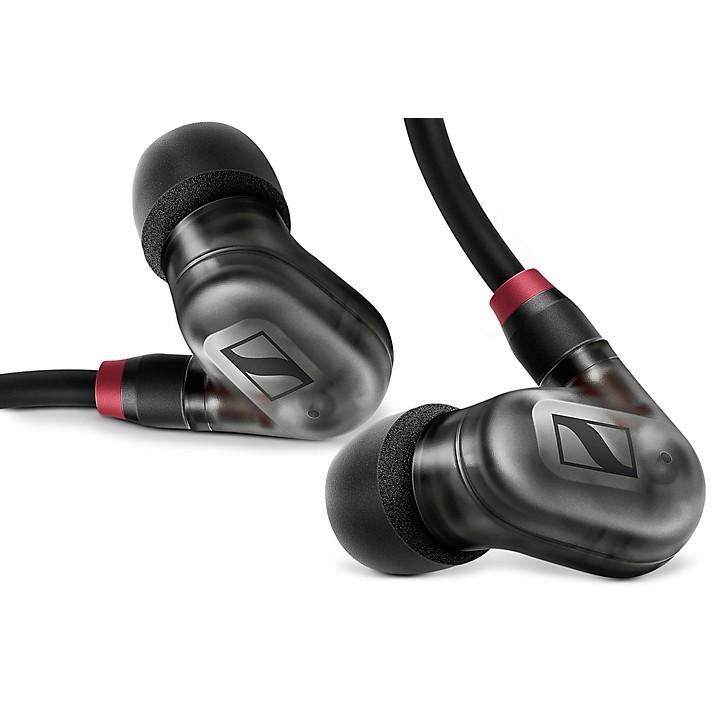 Professional-quality in-ear monitors.
There are several important considerations in selecting an in-ear stage monitor, and the Sennheiser IE 400 PRO checks every one of those boxes. They are lightweight and comfortable, so much so that if it weren't for the clarity and warmth of their audio output, you might forget you're wearing them. They are presented here in an attractive Smoky Black color, which deemphasizes their visibility. They come with a mostly stage-proof cable, but as any performing musician will tell you, cables of any sort undergo tremendous rigors at times, which can result in a cut, pinch or some other happenstance that interrupts the cable's viability. The IE 400 PRO's cable is detachable, so even in the case of its many failsafes being defeated, you can replace the cable cheaply and get back in business.
Its flat profile and ergonomic ear mold design along with memory foam ear tips in all sizes, individually adaptable to your ear canal depth, combine to offer an unprecedented fit and functionality. The IE 400 Pro's sound is of course its most important and endearing attribute. Warm, clear and eminently musical, these in-ear stage monitors can deliver precisely the mix, timbre and volume you need to give your best performance.
Features
Attractive Smoky Black color
Detailed and balanced in-ear monitor sound that packs a real punch
Detachable, stage-proof cable with break-proof connection and reinforced ear hook
Good fit and wearing comfort, thanks to ergonomic earmold design with flat profile
Perfect fit due to compact, extremely lightweight earmold in a superior ergonomic yet rugged design
Highest flexibility and wearing comfort with silicone & memory foam ear tips in all sizes, individually adaptable to your ear canal depth