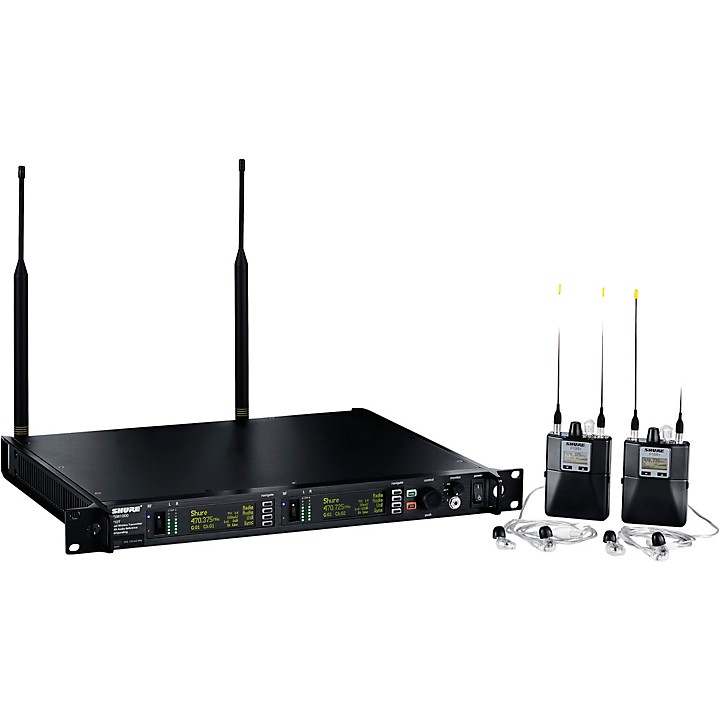 Professional-quality personal monitoring system.
The PSM1000 Wireless Personal Monitor System is a leading choice among top-tier audio professionals for productions. With its networkability over Ethernet, and twin-antenna diversity bodypack receivers, the Shure PSM1000 Wireless Personal Monitor System provides excellent audio quality, reliable RF performance and touring-grade features. Twenty compatible frequencies per band and a 72mHz to 80mHz tuning bandwidth give the PSM1000 system the horsepower to handle demanding environments, including professional IEM and IFB applications. Advanced setup capacities include full compatibility with Wireless Workbench and ShurePlus Channels software provides advanced RF spectrum plotting, comprehensive frequency coordination, and live monitoring and adjustment of transmitter settings.

Band G10: (470–542mHz)
Specifications
RF Carrier Range: G10, 470–542mHz
Compatible Frequencies: 39 per band
Tuning Bandwidth: 72mHz–80mHz (regionally dependent)
Operating Range (environment dependent): 90 m (300')
Audio Frequency Response: 35Hz–15kHz
Stereo Separation: 60dB
Signal-To-Noise Ratio (A-Weighted): 90dB (typical)
Total Harmonic Distortion: <0.5% (typical) (ref. ±34kHz deviation @1kHz)
Companding: Patented Shure Audio Reference Companding >80dB (typical)
Spurious Rejection (ref. 12dB SINAD) Frequency Stability: ±2.5 ppm
MPX Pilot Tone: 19kHz (±0.3kHz)
Modulation: FM, MPX Stereo (±34kHz deviation, nominal)
Operating Temperature: -18 to +57 °C
Features
Touring-grade design and performance
Twin-antenna diversity bodypack receivers with advanced digital signal processing technology dramatically improve signal reception and increase range
Full-rack, dual-channel wireless transmitter in an all-metal chassis provides touring-grade performance
Networked control via Ethernet connection vastly simplifies setup for high channel counts and enables remote control via Wireless Workbench software
Internal power supply with IEC in/out ports enables easy power chaining in the rack
CueMode allows monitoring of different stage mixes and storing of up to 20 separate channels on one bodypack for quick and easy reference
MixMode technology combines two separate audio channels for simultaneous listening in both ears, or transmit two independent IFB program feeds
Compatibility with PSM900 receivers (in the same frequency range) facilitates streamlined inventory management for rental and touring needs.
Robust RF Performance and Networked Control
Up to 80mHz tuning bandwidth provides flexibility in today's crowded and unpredictable RF environments
WARNING: Cancer and Reproductive Harm www.P65Warnings.ca.gov.