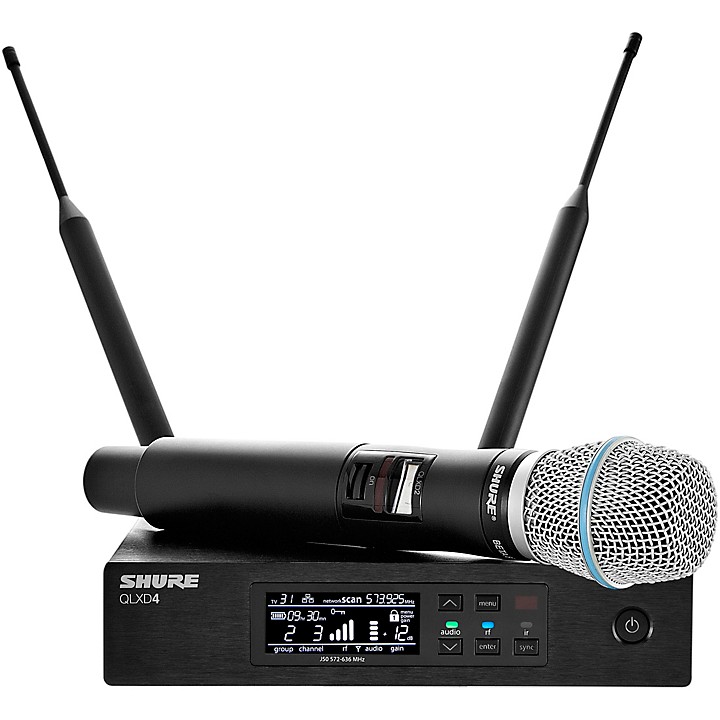 Clarity is king.
The Shure QLXD digital wireless systems are available in a variety of configurations that accommodate the needs of live presentation professionals from musicians to business leaders to auctioneers and beyond. This is the QLXD14/WL183 system, which includes the QLXD1 body pack transmitter, the QLXD4 digital wireless receiver, the WL183 lavalier microphone, power supply, 2 AA batteries, two 1/2 wave antennas, 2 BNC cables, zipper bag, 2 BNC bulkhead adapters, rackmount kit and user guide.

QLXD4
The half-rack QLXD4 Digital Wireless Receiver quickly finds open frequencies and sends them to transmitters via the one-touch sync function. The QLXD4 works with all QLX-D Digital Wireless Systems, and features Ethernet networking and mobile monitoring and control capabilities.

With transparent 24-bit digital audio quality and incredibly efficient RF spectrum usage, the QLXD4 Digital Wireless Receiver combines professional features with streamlined setup and operation. Automatic scanning quickly finds open frequencies, and one-touch IR sync quickly deploys them to transmitters.

Ethernet networking enables networked channel scanning across multiple receivers and Wireless Workbench software integration for remote control of receiver settings from a PC or Mac. Remote monitoring and control from iOS devices also is available via the ShurePlus Channels Mobile App.

QLXD1
QLXD1 wireless bodypack transmitter is a small, lightweight body-worn device that instantly syncs with a wireless receiver over IR at the push of a button and maintains an uninterrupted signal over its entire range. It provides up to 9 hours of continuous use with 2 AA alkaline batteries or up to 10 hours of continuous use with Shure lithium-ion rechargeable batteries.

Featuring transparent 24-bit digital audio quality and incredibly efficient RF spectrum usage, the QLXD1 Wireless Bodypack Transmitter is ideal for wireless vocals and instruments in mid-size presentation spaces, music venues, and houses of worship.

WL183
The Shure WL183 lavalier microphone is designed for use with a wireless body-pack transmitter. 4' cable terminates with a miniature 4-pin mini connector. The furnished tie clip can be rotated in 90 intervals for placement flexibility. Omnidirectional pickup pattern. This condenser microphone is recommended for general-purpose sound reinforcement, recording, or remote monitoring applications. Low handling noise. Pickup is 360º.

Specifications
Audio
Frequency response (TX): 50Hz–17kHz
Maximum SPL: 120dB
Format: Digital
Range
Line of sight: 300'
Obstructions: 100'
Microphone
Capsule: Electret condenser
Pattern: Omni
Type: Lavalier
Battery
Type: AA x 2
Life: 10 hours
Frequencies
Available frequencies: 22
Bandwidth: 24mHz
Construction
Transmitter: Metal
Receiver: Metal
Dimensions
Receiver: 7-3/4 x 6 x 1-5/8"
Transmitter: 4-1/4 x 2-1/2 x 7/8"
Weight
Receiver: 1.7 lb.
Transmitter: 4.5 oz. (without batteries)
Features
Choose from one of five bandwidths
G50: 470–534mHz
J50A: 572–608mHz
H50: 572–598mHz
V50: 174–216mHz
X52: 902–928mHz
WARNING: Cancer and Reproductive Harm www.P65Warnings.ca.gov.