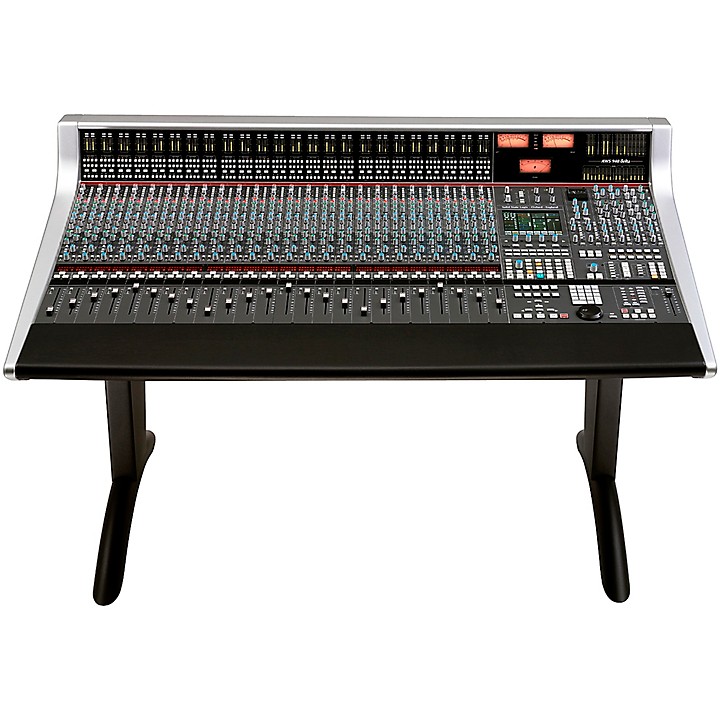 SuperAnalogue console with SSL δelta and DAW control.
The SSL AWS 948 analog mixing console with DAW control boasts 48 inputs within a compact 24 fader frame. It has 24 mic pres and stereo/dual mono channel strips that offer a second line-level input per channel to provide 48 summing channels. The AWS 948 delivers pristine SuperAnalogue summing, 24 ultraclean SSL SuperAnalogue mic pres, classic SSL dual curve EQ on every channel, two assignable SSL Dynamics channels, legendary Stereo Bus Compressor, TotalRecall and full 5.1 monitoring. In addition to onboard classic SSL Automation, it features the new d-Ctrl system.

The AWS 948 maintains the same 24-fader footprint as the AWS 924 (and classic AWS 900) and achieves its 48-input count via a unique dual-path Channel Strip design where each channel has a single mic amp and two line-level inputs, a new Stereo EQ and Stereo Insert. This new channel enables three different operating modes: STEREO MIX, IN-LINE MIX and IN-LINE TRACKING. These differing modes offer a wealth of workflow options that enhance today's versatile production environments.

IN-LINE TRACKING is similar to the AWS 924 with either the MIC or the LINE signal providing the CHOP and Track Bus source. Normally this primary signal is level controlled by the V-Pot. However through "fader flip" it is possible to use the large fader instead. In this setup the secondary signal (DAW output/Monitor Return or the even the CHOP) goes to the Large fader.

IN-LINE MIX is identical in operation to the AWS 924 channel strip, but adds a secondary path that provides an additional mix input with routing to the main console mix busses or an extra mono send via the track busses or Channel Out. In this mode the Channel V-Pot acts as the second path gain control (along with the associated SOLO/CUT switches). The V-Pots level and mute status can be automated, allowing all 48-channel signal paths level and cut automation in the analog domain. Note that it is also possible to move the Insert into the secondary path (ideal for X-Rack processing etc).

STEREO MIX mode provides a fully featured Stereo channel aimed primarily at stem mixing with 4-band EQ, HPF, Stereo Insert, balance/width control and routing to the REC and MIX busses, the track busses and the Stereo Cue. The FX sends and the CHOP are sourced by a mono sum of the stereo signal.

Channel configuration and Setup is accomplished via the AWS 948 onboard TFT screen and soft keys, and it is even possible to move or divide the channels processing resources (EQ, Insert etc.) between each of the dual paths.
Input Sections
The AWS 948 Channel Input section features two balanced Line Inputs with +/–20dB of gain and a world-class SuperAnalogue mic amp featuring continuous mic gain control (+15 to +75dB), phase reverse and switchable 48V phantom power. A –20dB PAD allows for high impedance sources such as guitars. The routing functionality of the Insert varies according to the three different operating modes.
EQ Section
The Stereo EQ design featured on the AWS 948 is sonically identical to that used on the AWS 924. The 948 channel EQ has the added benefit that HF/LF and Mid Frequency bands are independently switchable between E and G series response curves and tonal characteristics.
Routing and Sends
Each channel has access to two main stereo busses (RECORD and MIX) in addition to two Stereo Cue busses and four mono FX sends. Every AWS Channel features a Direct Channel Output (CH OP) and can also feed eight independent track busses. SSL's unique "EFX" system is present on all channels significantly enhancing creativity by allowing free assignment of send controls.
Pan/Width
In IN-LINE MIX and IN-LINE TRACKING modes the pan control is a standard L/R pan control. In STEREO MIX mode the pan control becomes a stereo width control and L/R balance is controlled by the V Pot.
Digital Scribble Strips
When the AWS is in analogue mode the Digital Scribble Strips display name and parameter information for the selected analog signal path. When the AWS is in DAW mode they display DAW channel and processing parameters.
Specifications
Performance Figures
Headroom: < +27dBu @ 1kHz (< 1% THD)
Mic To Insert Send (Max Gain)
Frequency response: ±0dB at 20Hz, +0/–0.08dB at 20kHz, –4dB at 200kHz
Noise: < –127dBu EIN 20Hz–20kHz
Line In To Direct Out
Frequency response: ±0dB at 20Hz, +0/–0.08dB at 20kHz, –3dB at 135kHz, –6dB at 195kHz
Noise: < –89dBu 20Hz–20kHz
THD: < 0.002% @ 1kHz (+24dBu, 80kHz filter)
Line To Track and Aux Bus Out
Frequency response noise: ±0dB at 20Hz, +0/–0.08dB at 20kHz, –3dB at 135kHz, –6dB at 185kHz
Noise: < –89dBu (no channels routed), < –80dBu (all channels routed)
THD: < 0.002% @ 1kHz (+24dBu, 80kHz filter)
Line To Mix/Rec Bus Out
Frequency response: ±0dB at 20Hz, +0/–0.08dB at 20kHz, –3dB at 135kHz, –6dB at 185kHz
Noise: < –89dBu (no channels routed), < –84.5dBu (all channels routed)
THD: < 0.002% @ 1kHz (+24dBu, 80kHz filter)
Size and Power
Height (maximum): 36.4"
Height of faders: 28.5"
Height adjustment: +0.8"/–0.4"
Width: 57"
Depth (maximum): 34.4"
Heat dissipation: Less than 600W
Supply voltage: 90–250V, auto ranging
Supply current: 5.5–2.0A
Power factor: 0.95
Features
Combination of SuperAnalogue console and advanced DAW controller
New δelta control automates your console within your DAW like a plug-in
SSL SuperAnalogue mix bus provides pristine audio foundations
SSL SuperAnalogue mic pres provide transparent record path
Versatile Channel EQ, assignable Dynamics and SSL Master Bus Compressor
4-Band EQ design with independent E/G curve switching of HF/LF (stereo on 948 only)
5.1 Surround monitoring and Monitor calibration including bass management
MIDI over Ethernet multi-layer DAW workstation control
Digital Scribble Strips for console and DAW data
Elegant project setup via SSL Logictivity Remote Browser and SD card storage
SSL's unique trademarked TOTAL RECALL system with TR Autoscan
Responsible "green" manufacturing and reduced power consumption
Compact frame ideal for small control rooms
Innovative dual-path Channel with three versatile operating modes (948 only)
48 inputs on AWS 948
IN-LINE TRACKING = one mic plus one line input per channel
IN-LINE MIX = two mono line inputs per channel
STEREO MIX = one stereo line input per channel