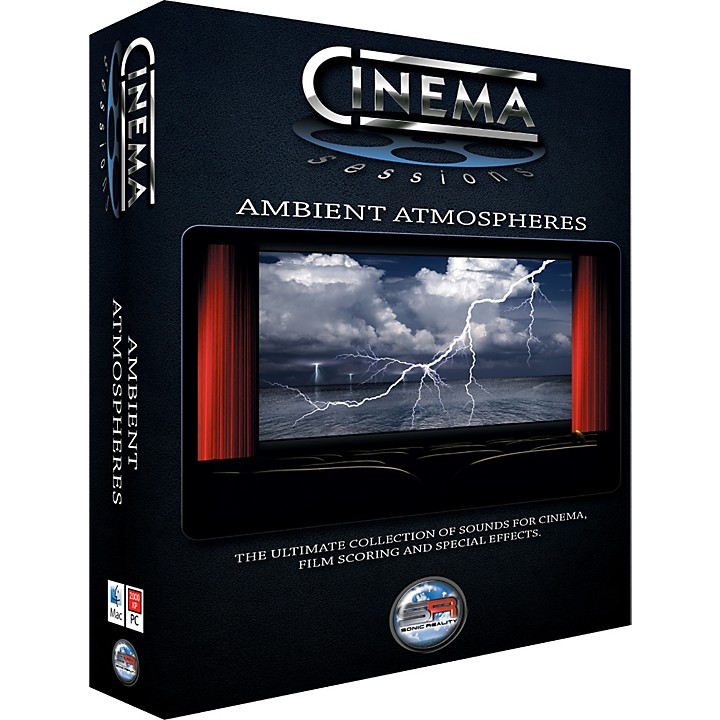 A special array of ambient sounds, from thunder storms and fireworks to barking dogs and train announcers.
Offering unique sonic effects with a musical twist, the Cinema Sessions: Ambient Atmospheres sound effects library expands Sonic Reality's "Sounds for Film" and other media category. Cinema Sessions: Ambient Atmospheres features a combination of film texture pads, drones, and ambient soundscapes with 96kHz ambient sound effects from Sonic Reality.

Featuring the type of sound effects you'd hear in film and video games or effects used in a musical context, such as classic rock or ambient electronica, Ambient Atmospheres includes a wide range of thunder storms, European train announcers, airports, oceanic soundscapes, close range fireworks, birdsong, dog barks, and futuristic other-worldly sound design. Special features of this sound library include instant forward and reverse playback, time stretch, built-in effects, and quick-layering capabilities for building an infinite amount of powerful ambient soundscapes.
Specifications
Minimum System Requirements
PC: Windows XP Pentium 3/Athlon XP 2GHz - XP & Vista Compatible, 2GB RAM, DVD Drive, *An activated Sonic Reality Infinite Player + KONTAKT Player or Full version 3.5 of higher is required to play these sounds
MAC: Mac OS 10.2.6, G5 1.2GHz - Universal Binary Intel Mac Compatible, 2GB RAM, DVD Drive, *An activated Sonic Reality Infinite Player + KONTAKT Player or Full version 3.5 of higher is required to play these sounds. [Note: KONTAKT Player 4 may also be used but is not compatible with PPC Mac]
Supported formats: VSTi, RTAS, Audio Units, DXi, Stand Alone, ASIO, Core Audio, Direct Sound (Samples in KONTAKT format compatible with KONTAKT version 3, 4 and beyond)
Features
Film texture pads, drones, and ambient soundscapes with 96kHz ambient sound effects
Time-stretch and alter the harmonic structure of sound effects in real time
Place sounds in any space via the use of the included Convolution Reverb - drag and drop your own impulses for matching sound effects to dialog and more
Sounds stretch across multiple octaves of the keyboard for quick alternate-pitch auditioning and polyphonic effects' building
Sounds can be layered and saved back as new composite sound effects
Built-in database query right inside KONTAKT Player 4 allows easy access to thousands of individual FX
Built-in DSP effects for sound design, such as Filters, Delays, Chorus, Flangers, Phasers, Reverb, Distortion, and more
Sound-shaping envelopes and easy-to-use controls for tailoring sounds for every need