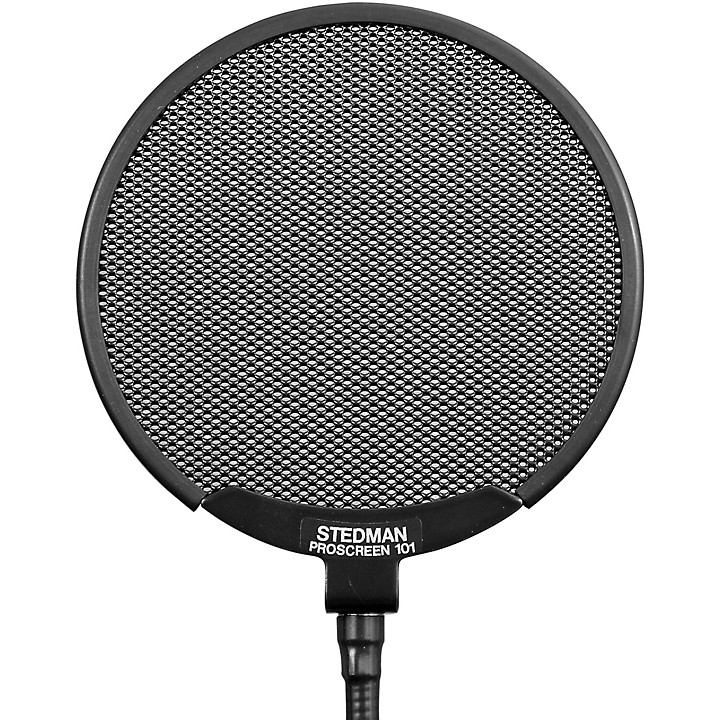 Protective pop filter with rubber surround.
The STEDMAN PS101 custom pop filter is exactly the same as the world class PS101 but with the addition of a rubber surround employed by the Proscreen XL. The PS101 Proscreen is a popular pop filter design that has a 4.6" diameter metal screen to eliminate bursts on vocal recordings. This is far more effective than fabric filters by redirecting airflow downward and away from the microphone capsule, rather than simply diffusing bursts. Even with close vocal work, the Proscreen pop filter will not allow popping plosives to reach the microphone. The large openings in the metal screen allow vocal sound to pass through to the microphone unobstructed and uncolored, preserving critical recorded detail. This is a professional high quality pop filter that will provide excellent burst prevention for music vocal tracks and voice over recording applications. The patented Proscreen filter material and the high strength metal alloy clamp are both finished with a durable powder coating that will last a lifetime of recording sessions.
Specifications
Length: 20"
Screen diameter: 4.6"
Weight: 5.8 oz.
Clamp range: .5" to .85"