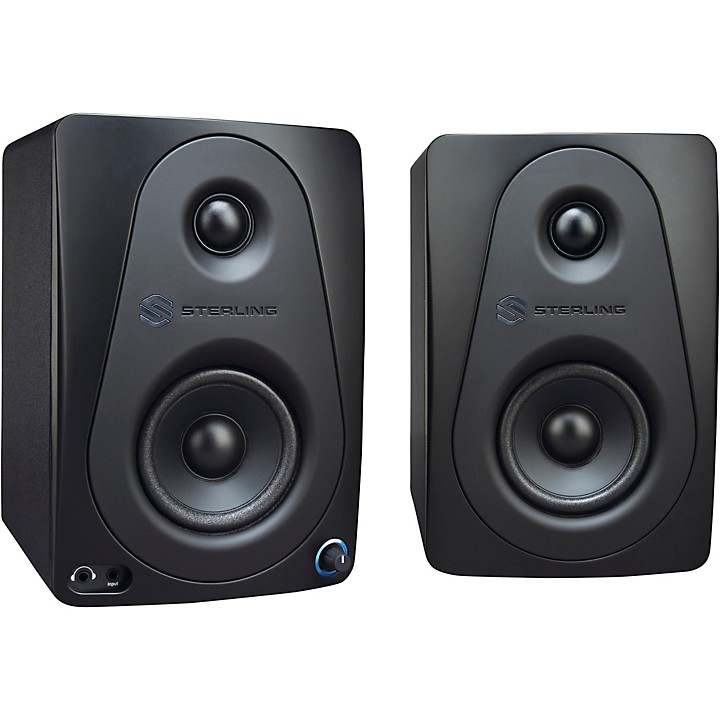 Compact studio monitors with 3" woofers for home studios or entertainment systems.
The Sterling MX Black Series bi-amplified monitors represent the latest evolution in audio reference design, combining top sound quality with next-generation materials that meet your most demanding expectations in any professional, or project studio application.

If your reference and mixing monitors need to be as transparent as they are portable, the Sterling MX3 Powered Studio Monitors are the perfect solution. They feature the same design elements as their larger siblings, the MX5 and MX8, for an optimal frequency dispersion. Each MX3 speaker is built with high-quality components to achieve best-in-class efficiency and ultra-low distortion. Acoustically engineered 3" low-frequency driver cones offer superior damping, and a 3/4" silk dome tweeter powered by powerful neodymium magnets give the MX3 monitors a natural frequency response with impressive low-frequency reproduction for its class.

The MX3 also feature front-mounted volume control and stereo 3.5 mm inputs and outputs for quick connection of external audio devices for playback or a quick switch to headphones when a quieter environment is required. With a sophisticated dual matte black finish that acclimates to any studio-based environment, the MX3 monitors look as good as they sound no matter where your sound may take you.

Features
3" LF driver with proprietary cone design
3/4" silk-dome tweeter, neodymium magnets
20 watts of Class A/B amplification
Rear port reduces LF turbulence and distortion
Polished ebony front baffle with logo
Studio-grade internal components
Protective electrical design
Unbalanced RCA inputs