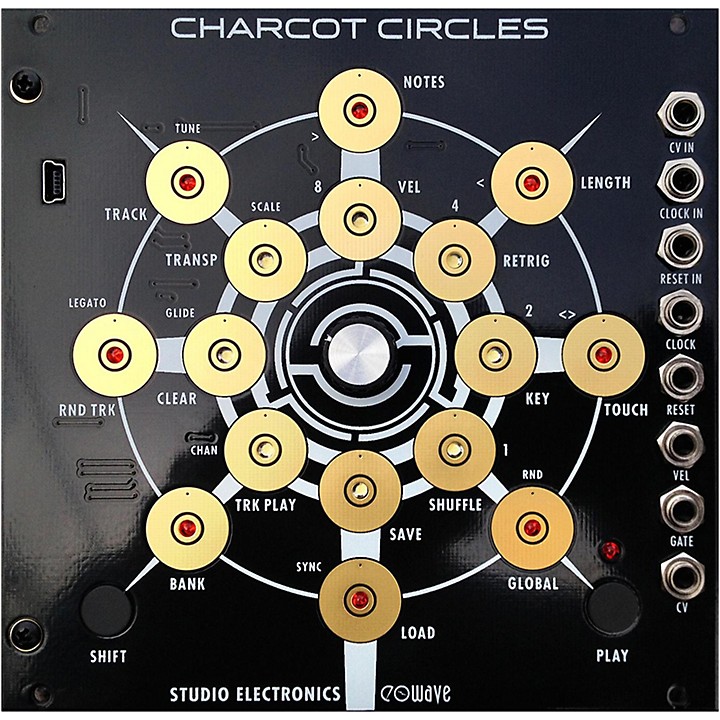 Modular step sequencer and more.
Experience the hypnotic, borderline hysterical sway of the CHARCOT CIRCLES (named for Jean-Martin Charcot "founder of modern neurology") to awaken your mind and muse. It includes a 16 x 8 step sequencer that can be used as an 8 x 16 step track preset (8 CVs & gates), 4 x 32 (4 CVs & gates), 2 x 64 (2 CVs & gates), and 1 x 128 step track preset (1 CV, 1 gate).

CV and gate expansion is made possible through the BBOX breakout box interface, which features 4 CVs & 4 gates. Up to 2 breakout boxes per Charcot can be connected.

8 banks: a collection of up to 16 presets per bank
Presets: a collection of tracks composed of 1-16 Notes
Notes: base level data, or steps.

Up to 128 presets can be stored in the 8 banks of 16 presets. In TRACK PLAY—the most expressive performance mode—you decide which tracks you want to play together in the preset. In Global mode "8" for instance, tracks 1-8; 1 and 8; 1, 2, 3 and 8—just track 5, etc. In Global mode "4", tracks 1-4; 1, 2, 3; 1 and 4, etc. In Global mode "2", tracks 1, 2; 1; 2. In Global mode "1", 1 track of 128 steps.

Connections
USB in/out, CV in, clock in, reset in, clock out, reset (out), velocity (out), gate (out), CV (out), are certain to attract both scientific and social notoriety. Let your predispositional creativity (think of that as the outer circle of white LEDs) mesh with an inspirational "Circles" influence (think of that as the inner circle of red LEDs) to exceed the threshold of the ordinary.

Features
CV IN – Control voltage input.
CLOCK IN – Clock source can be a square wave or gate signal (positive logic).
RESET IN – Positive voltage resets the Sequencer to the first step.
CLOCK (out) – Outputs a pulse per step. The default step setting is 1/16 (1/16th note). In note mode press SHIFT and PLAY together, then turn the encoder to divide the master tempo.
RESET (out) – Positive reset voltage output.
VEL (out) – Velocity (note/step level) output.
GATE (out) – 0/+5v trigger output.
CV (out) – Control Voltage output.
Additional Connections
USB in/out - Software update via USB HIDBootloader (see studioelectronics.com/assets/pdf/guides/boomstar-modular/charcot-circles/Charcot-Circles-Quick-Start-Guide.pdf), and importing and exporting MIDI sequence data via Max7: studioelectronics.com/assets/boomstar-modular/charcot-circles/Max7/circles_seq_transfer.maxpat.zip
Details
Size - 26hp
Depth - 39.7mm with ribbon cable attached
Power Usage - 85 mA +12V, 10 mA -12V