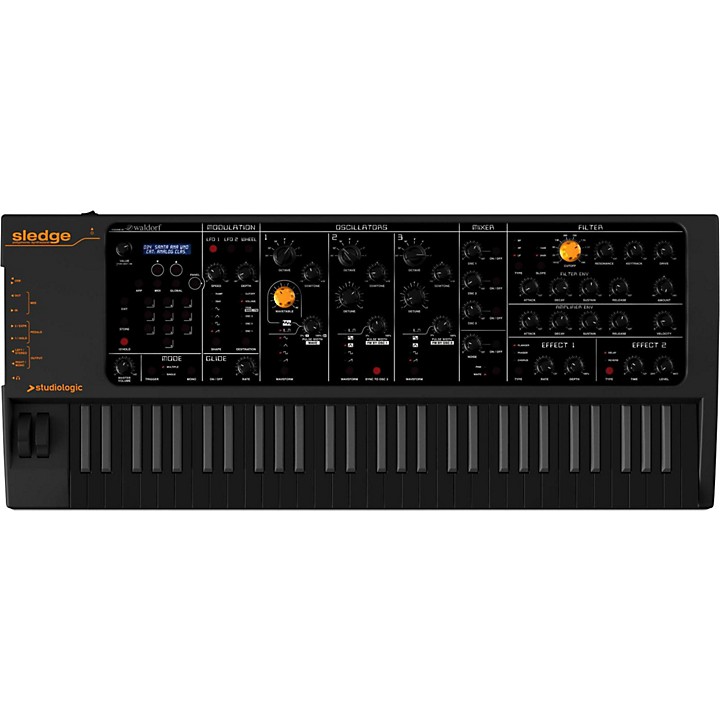 An intoxicating blend of synthesis and sampling, attractive black and gray keyed and chassis.
The Sledge is a reiteration of Studiologic's The Sledge 2, a beastly monotimbral polysynth. Studiologic has traditionally been bold in terms of its design and build, and the original Sledge was that in every way, even notably its screaming yellow color. This reiteration is in a perhaps more stage lights-friendly black finish with reverse keys in gray. A beautifully designed chassis.

The Studiologic Sledge 2.0 is a welcomed update to the original version, blending an intoxicating mix of pure synthesized tones with organic sound sampling. With double the polyphony, Sledge 2.0 give you up to 24 voices that can be played simultaneously for even greater control and completely new sound combinations. In addition to its incredible sound engine and user-friendly control panel, Sledge 2.0 further expands the instrument' power and versatility. Studiologic and Waldorf Labs teamed up to make Sledge 2.0 more flexible as a pure synthesizer, adding the ability to play in Dual Mode two programs at the same time, load samples and mix post processing effects for an endless array of sonic creativity.

Auto Dual mode: Sledge 2.0 can now play two sounds at the same time, in Split or Layer mode; the feature is controlled by a new page of the Global function and allows to simply keep one note (for Split) or more notes (for Layer) and then select a new sound, that will be added to the previous sound; as any other sound, also Dual Sound combinations can be permanently stored in any of the 1.000 available presets;

Sample Player: sound samples and new waves can be loaded in the internal 60 megabyte of Flash memory, played by OSC 1 and modifiable by all parameters of the control panel, adding other oscillators, setting filters, envelopes and effects. This feature can constantly expands the instrument' sounds and create a totally new combination of synthesis and sampling.

Pitch & Hold controls: a new Global page allows to enable the Pitch and the Hold separately for the Lower and Upper sounds in Dual Mode, allowing to use the Pitch bend on the Upper sound (i.e. for solo parts) and the Hold pedal to control only the Lower (to keep playing a Drums groove or as a Damper for a Piano sound) and vice versa, or to enable Pitch Bend and Hold on both Upper and Lower sounds;

Reverb+Delay: a new function allows to mix both effects; the Reverb keeps the setting previously selected, while the real time controls (time and level) allows to set the parameters of Delay also when mixed.

Enhanced Polyphony: the total maximum number or notes that can be played at the same time have been expanded to 24, allowing to get a better real time control over the new sound possibilities obtainable from synthesis and sampling together.

Sledge Spectre: samples can be edited (keyboard range, tuning and other parameters) and transmitted to Sledge 2.0 by the USB port, with this easy sample editor that allows to first load and play the samples on your Computer and then download them into the instrument' memory.

Features
Beautiful black and gray keyed and chassis
61 key polyphonic synthesizer with Aftertouch
Enhanced polyphony, up to 24 voices
Split or Layer mode, play two sounds at the same time
Load up to 60MB of sound samples in the internal Flash memory
Up to 999 programmable Sounds
Fast and efficient sound selection via numeric keypad
Enable Pitch and the Hold separately for the Lower and Upper sounds
Enhanced Reverb and Delay effects with blend control
USB compatibility, design sounds on the computer and load into Sledge 2.0