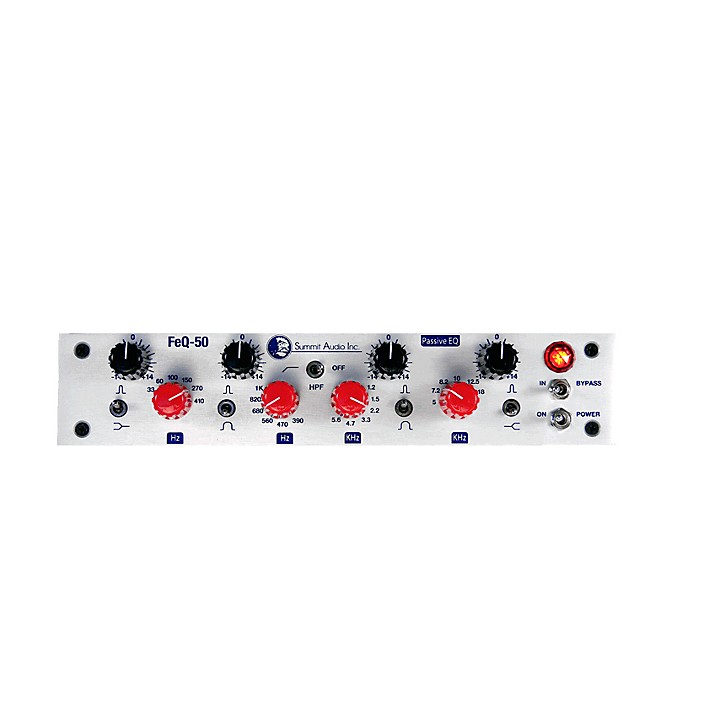 Get great-sounding tube and solid state EQ in a single unit
Drawing on Summit Audio's years of audio research and design experience, the FeQ-50 Passive Tube/Solid State Equalizer provides extraordinarily musical-sounding, flexible 4-band EQ, featuring the increased phase coherence and rich harmonics that come from a passive design. Offering both tube and solid-state signal paths, the FeQ-50's four simultaneous outputs give you flexibility in signal routing and mixing possibilities that will positively stir your creative urges. From subtle sculpting to wholesale radical transformation, the entire audible frequency spectrum is under your command.

The convenient half-rack size, sturdy metal chassis makes it easy to add multiple units to your system, for independent channel processing or stereo mastering and mixing. Like all Summit Audio gear, the FeQ-50 is meticulously hand-crafted with the best quality components and obsessive attention to detail. The construction will stand up to the demands of the road as well as the audio quality stands up to the demands of the studio. Add a little audio magic to your system with an EQ you'll keep using for years.
Specifications
Height: 1.75 inches (4.44 cm)
Width: 8.5 inches (21.59 cm)
Depth: 8.5 inches (21.59 cm)
Weight:5 pounds (2.77 kg)
Power Configuration: Internal AC supply 15 watts, 115v 60Hz (USA model)
Fuse size .5 amp, slo-blo
Selectable Low Band Frequencies: Boost or cut up to ±14dB at 33Hz, 60Hz, 100Hz, 150Hz, 270Hz, or 410Hz.
Selectable Mid Band Frequencies: 390hz, 470Hz, 560Hz, 680Hz, 820Hz, or 1kHz with wide/narrow Q selectable
Selectable High-Mid Band Frequencies: 1.2kHz, 1.5kHz, 2.2kHz, 3.3kHz, 4.7kHz and 5.6kHz with wide/narrow Q selectable
Selectable High-Frequency Cut Frequencies: set for either a peak or shelving response and can boost or cut up to ±14dB at 5kHz, 7.2kHz, 8.2kHz, 10kHz,12.5kHz, or 18kHz
Connections:
Line Input: +4 dB XLR Balanced and -10 dB 1/4" unbalanced
Solid State Outputs: +4 dB male XLR and 1/4" -10 dB balanced
Tube Outputs: +4 dB male XLR and 1/4" -10 dB balanced
Max input level: +20 dBu
Max output level (XLR): +20dBu
Max gain: +/-14dB per band
Operating Measurements
Frequency response: Tube: 12Hz-100kHz ˆ'1dB, Solid State: 12Hz-100kHz -1dB
Signal to noise ratio: Tube: 122dB, Solid State: 124dB
THD + Noise: Tube: 0.16% +4dB in 20Hz-20kHz, Solid State: 0.07% +4dB in 20Hz-20kHz
Tube complement: single 12AX7A
Features
4-Band fully-parametric passive EQ
Internal power supply
4 Simultaneous outs - 2 each for tube and solid-state outs
Balanced input and output
3-Year manufacturer's warranty
Hand-crafted in the USA