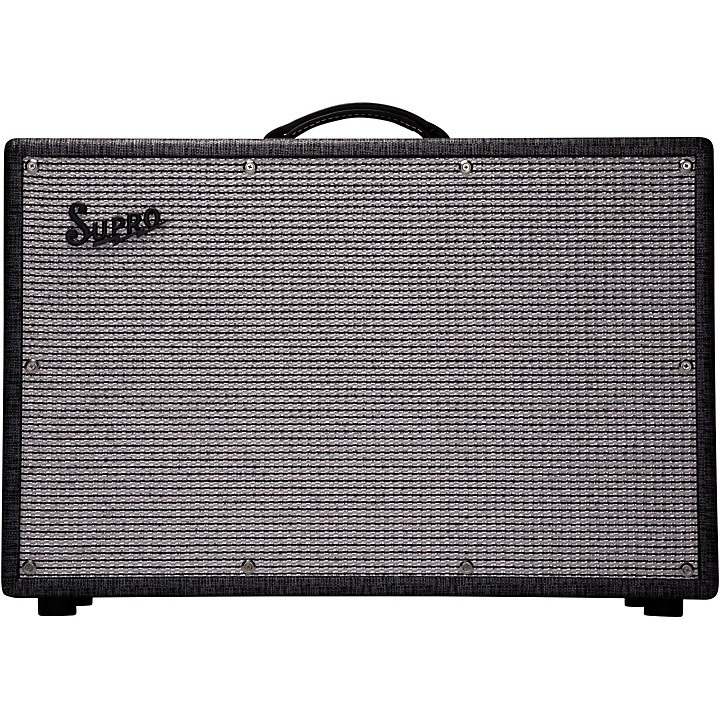 Get massive power handling and incredible 2x12 tone with Supro quality.
The Supro 1799 Statesman 2x12 Extension cabinet is the loudest and most powerful speaker cab in the Supro line. Loaded with the Supro BD12 speakers we originally developed for the Black Magick amplifier, the Supro 1799 2x12" Statesman Extension is the perfect companion to the 1699RH Statesman head and 1695TH Black Magick head.

The Statesman 2 x 12 extension cabinet is rated for up to 150 Watts and features switchable 4-Ohm / 16-Ohm impedance settings as well as parallel input jacks for daisy chaining multiple cabinets. One, two or even four Statesman 2 x 12 cabs can be connected to a single Statesman head for maximum impact on stage. The Statesman 2 x 12 extension cabinet also sounds fantastic when paired with a Marshall and provides enough power handling to function with a 100W or 120W tube amp head from any manufacturer.

The BD12 speaker found in the Statesman 2 x 12 cabinet features and oversized ceramic magnet, top-of-the-line suspension and a UK-made speaker cone. This unique speaker recipe was designed by Bruce Zinky for Supro amps specifically to capture the Page / Zep I inspired tones found in our award-winning Black Magick amplifier. Armed with a pair of these custom drivers, the Statesman 2 x 12 Extension Cabinet's partially-open-back design delivers the classic Supro sound with astonishing volume and extended bass response.
Specifications
Power handling: 150W
Speakers: 2x12 Supro BD12
Impedance: 4-ohm or 16-ohm switchable
100db sensitivity
Partially open-back design
Black Rhino Hide Tolex
Dimensions: 28" x 18" x 9"