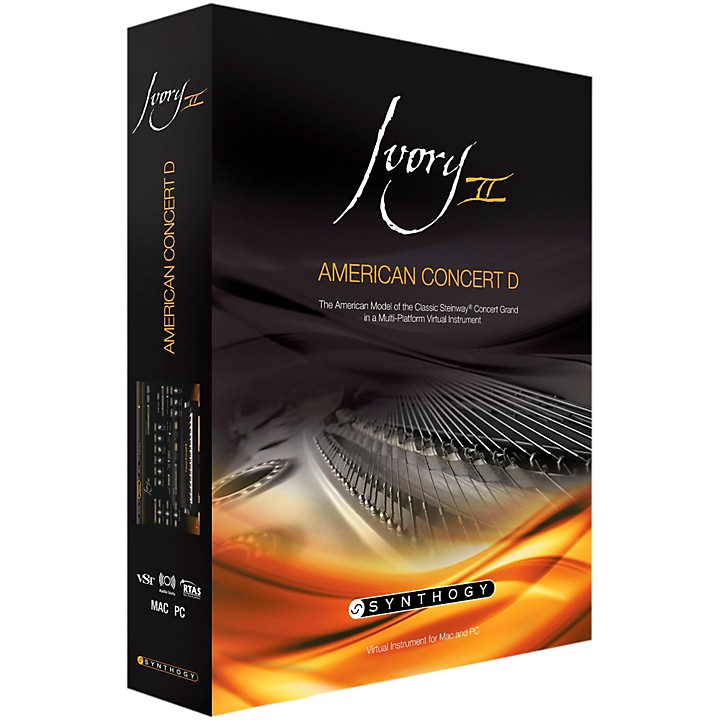 Virtual piano instrument with over 70GB of content.
In the rarified world of great concert artists, there are precious few instruments that leave a lasting impression upon the masters who played them. Ivory II American Concert D is one of those instruments.

This vintage 1951 New York Steinway D (CD 121) was chosen by the Steinway & Sons concert department for Steinway artist promotion. Throughout the years, the instrument has been lauded by some of the world's greatest concert artists. Indeed, the plate of the piano is signed by Glenn Gould, Rudolf Serkin and many others, as a testament to high praise by the world's great masters.

Put your hands on it, and it's not hard to see why. The instrument has an exceptionally clear and transparent sound, yet with a singing tone and mature beauty and resonance that can only be found on a concert instrument in this class. The recording took place in the Françoys-Bernier Concert Hall at le Domaine Forget in the Charlevoix region of Quebec, the same hall where Ivory's acclaimed German Steinway was recorded. Reunited were master concert technician Michel Pedneau, performer/producer Joe Ierardi and recording engineer Mark Donahue of Soundmirror to capture every detail of this amazing instrument.

With a 49GB library, Ivory II American Concert D is the largest single piano in the Ivory family. This American Steinway possesses a naturally long sustain, which is captured in its entirety to the final decay, some of the notes ringing longer than two minutes. Also included are up to 20 velocity levels, with more soft pedal samples, and more release samples to capture more detail than any Ivory instrument before.

Ivory II American Concert D is powered by the award-winning Ivory II engine, and contains the full compliment of Ivory II's features, foremost being Synthogy's acclaimed Harmonic Resonance Modeling for the realization of true Sympathetic String Resonance. Custom designed by Synthogy DSP guru, George Taylor, this technology does not rely upon triggering additional samples or use ordinary sine waves. Rather, notes struck that are harmonically related excite the actual complex overtones of the notes that are being held, in the same manner that undamped strings resonate in a real acoustic piano. Together with the new American Concert D samples, the results are simply stunning, the culmination of Synthogy's most powerful technology, with Synthogy's most advanced sampling techniques.

Ivory II American Concert D is a free-standing virtual instrument. No previous version of Ivory is required. Existing Ivory II owners will find that it installs quite readily into their current library. But whether this is your first introduction to Ivory II, or you are a long time Ivory owner, Ivory II American Concert D is a remarkable, must-have, instrument.
Specifications
System Requirements
Minimum Hardware
2.0 GHz Dual Core PowerPC G5 or 1.8 GHz Intel Core Duo or equivalent CPU
1.5 GB RAM
22 GB free hard drive space
Hard drive speed of at least 7200 RPM
DVD ROM drive for installation
iLok key (not included)
Recommended Hardware
2.0 GHz Intel Core Duo CPU
2 GB RAM
77 GB free hard drive space
Macintosh
Any AU, RTAS, or VST 2.0 plug-in host, or the included Ivory Standalone application.
Mac OS X 10.4.11 (Tiger), 10.5 (Leopard), 10.6 (Snow Leopard), or 10.7 (Lion)
Windows
Any RTAS or VST 2.0 plug-in host, or the included Ivory Cantabile application.
Windows XP SP2 (32 bit), Windows Vista (32 or 64 bit), Windows 7 (32 or 64 bit)
Features
1951 New York Steinway D selected by Steinway & Sons for artist promotion
Includes the Award-winning Ivory II piano engine
49GB Core Library
Up to 20 Velocity Layers
Harmonic Resonance Modeling for True Sympathetic String Resonance
Custom Soundboard Emulation DSP
Half-pedaling
Pedal Noise Enhancements
Release samples triggered by velocity and duration
Una Corda (soft pedal) samples at multiple velocities
Native 64 Bit Support
Timbre Shifting, Parametric EQ and Synth Layer controls for powerful sound sculpting capabilities
Incorporates exclusive Sample Interpolation Technology used for ultrasmooth
velocity and note transitions
World class digital FX including Real Ambience, Chorus and EQ
Customizable User Controls for Timbre, Stereo Width and Perspective, Velocity
Response, Mechanical Key Noise, Lid Position and more
Tuning Tables