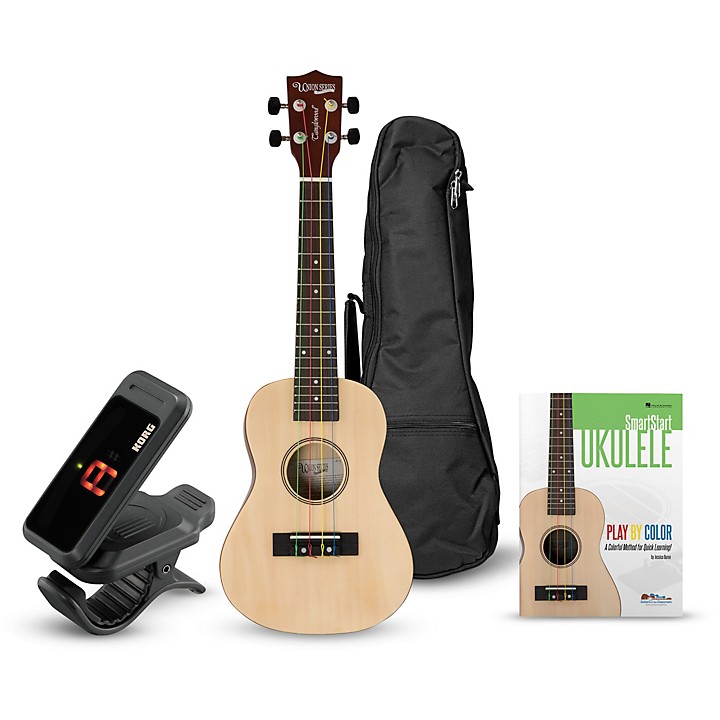 Learn to play ukulele with colors – easy for any age.
You don't have to be a music major to learn to play the ukulele—you don't even have to be able to read sheet music. Musicians of all ages and abilities are picking up the ukulele every day and now Korg has a unique and fun bundle to help anyone, any age learn to play. The included Tanglewood concert ukulele has four colored strings that will help anyone learn to play faster than ever.

The TU101NAK Learn-To-Play bundle includes a beautiful natural colored Tanglewood concert ukulele, Aquila Kids colored strings already installed on the uke, a padded gig bag, a Korg PC-1 Clip-on tuner and a full, 32-page method book that will get even pre-readers playing in no time.

The SmartStart Ukulele - Play By Color method book was co-written by Korg Education's Sr. Manager, Tiffany Stalker along with Founder and with Executive Director of Guitars in The Classroom, Jessica Anne Baron. This easy to understand method incorporates FUN primary colors to get anyone, any age playing quickly.

This Open C method has been proven to be successful over many years with thousands of students - and now you can bring it home with you. And to make this an even better collaboration, a portion of every sale will go back to Guitars in the Classroom to make more music in our schools and communities.

The colored strings are already on the ukulele, and in the box you'll have a Korg PC-1 tuner, a gig bag and a full size method book to get you on your way.

Features
Quality instrument with great tone: In this introductory bundle, you'll find a great quality ukulele that will last and sound great.
Includes a full method book: Unlike other bundles, this Learn to Play bundle features the colored strings already on the instrument and a full 32-page method book filled with great tips and tricks to playing quickly and great songs to play right away
Everything you need is in the box: From set-up to your first show, you'll have everything you need to get playing