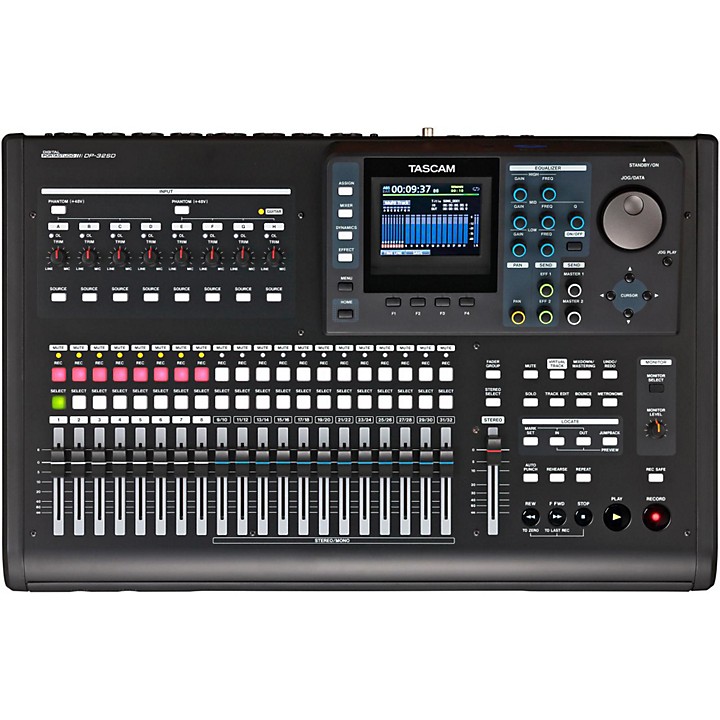 Same functions as the DP-32, but with convenient SD media.
TASCAM's DP-32SD Digital Portastudio records an unmatched 32 tracks to solid-state media. Up to eight tracks can be recorded at a time through its combination XLR and 1/4" combo jacks. Input processing like compression and limiting are available during recording, as well as guitar amp simulation and multi-effects for use with the instrument-level input. A color LCD and channel strip knobs make mixing fast and creative. The included 4GB SD card can be replaced with up to 32GB SDHC media or swapped with other cards between projects.

Excellent visibility and intuitive operation delivers stress-free recording
A stress-free user interface has been equipped, building upon the Portastudio series' concept of intuitive operation. Various full-color LCD screens and self-illuminated buttons offer superb visibility. Measures have been made to increase operability, for example faders have eliminated layer structures make operating all tracks feel intuitive. Even the channel strip is equipped with encoders with unified LCD screens and colors. The operational unit moves in a way that delivers music production free of stress.

Simultaneous 8-track recording with 8 XLR/TRS combo connectors
The DP-32SD has 8 XLR-TRS combo inputs that can withstand multi-microphone recording with drums.
Phantom power supply is also possible, with the INPUT H compatible with direct guitar inputs. With dynamic effects, which are indispensable for high-quality recording, up to 8 effects can be used for each input. In addition, the DP-32SD comes with built-in guitar multi-effects, tuner and metronome, allowing users to complete recording preparations with this device alone.

Supports high-quality mixing thanks to its professional effects
When it comes to mixing, users can perform a speedy mix-down with intuitive operation thanks to the full-color LCD, encoders and faders of the DP-32SD. Mixing effects that are available include reverbs and spatial effects that you can use to enhance your music, resulting in audio with quality as high as that of professional studio productions. After mixing is done, final touches can be added by using the built-in mastering effect. From the moment you switch the device on to mastering your audio production, the DP-32SD creates a professional production environment without a computer.

Even in loud environments, the high-output powered amplifier makes headphone monitoring easy
In order to ensure a high-quality production environment, the outputs and monitor systems have been upgraded.
Separate to the stereo output, a MONITOR OUT that can adjust monitor volume has been installed, and the TRS output terminals are able to make balanced connections with the monitor speaker.

In addition, a 70mW/ch headphone amplifier that allows loud volume monitoring has also been installed. The slim-shaped DP-32SD Digital Portastudio offers a music production environment that doesn't require a computer.

Specifications
XLR
Connector: XLR-3-31 (1: GND, 2: HOT, 3: COLD), Balanced
Input impedance: 2.4 kohm
Nominal input level: –14dBu
Maximum input level: +2dBu
TRS
Connector: 1/4" (6.3 mm)TRS phone-jack, Balanced
Input impedance: 22 kohm or more / 1 mohm (when INPUT H, GUITAR selected)
Nominal input level: +4dBu
Maximum input level: +20dBu
Stereo Out
Connector: RCA pin-jack, Unbalanced
Output impedance: 200 ohm
Nominal output level: –10dBV
Maximum output level: +6dBV
Effect Sends
Connector: 1/4" (6.3mm) TS phone-jack, Unbalanced
Output impedance: 200 ohm
Nominal output level: –10dBV
Maximum output level: +6dBV
Monitor Out
Connector: 1/4" (6.3 mm) TRS phone-jack, Balanced
Output impedance: 200 ohm
Nominal output level: –2dBu
Maximum output level: +14dBu
Phones
Connector: 1/4" (6.3 mm) TRS phone-jack
Maximum output level: 70mW + 70mW (THD+N 0.1% or less, 32 ohm loaded)
USB
Connector: USB Mini-B type 4-pin
Format: USB2.0 High-Speed mass-storage class
Remote
Connector: 2.5 mm TRS jack
Audio performance
Frequency response: 20Hz to 20kHz (±1dB, Input to stereo out/effect sends/monitor out)
S/N Ratio: 90dB or greater (input to stereo out/effect sends/monitor out)
THD: 0.01% or less (input to stereo out/effect sends/monitor out)
Other
Power: Dedicated AC adapter (PS-1220E or GPE248-120200-Z, included)
Power consumption: 12W (when phantom power supplying)
Dimensions (WxHxD): 20.2" x 4.1" x 13.4" / 514 x 104 x 340 mm
Weight: 13.67 lb. / 6.2 kg
Operating temperature: 41˚F to 95˚F / 5˚C to 35˚C
Accessories: AC adapter, 4GB SD card, warranty card, owner's manual
Features
Simultaneous 32-track playback
Eight mono tracks and 12 mono/stereo selectable tracks
File transferring via USB 2.0 (cable sold separately)
21 faders (19 track-faders and one master fader)
Simultaneous 8-track recording