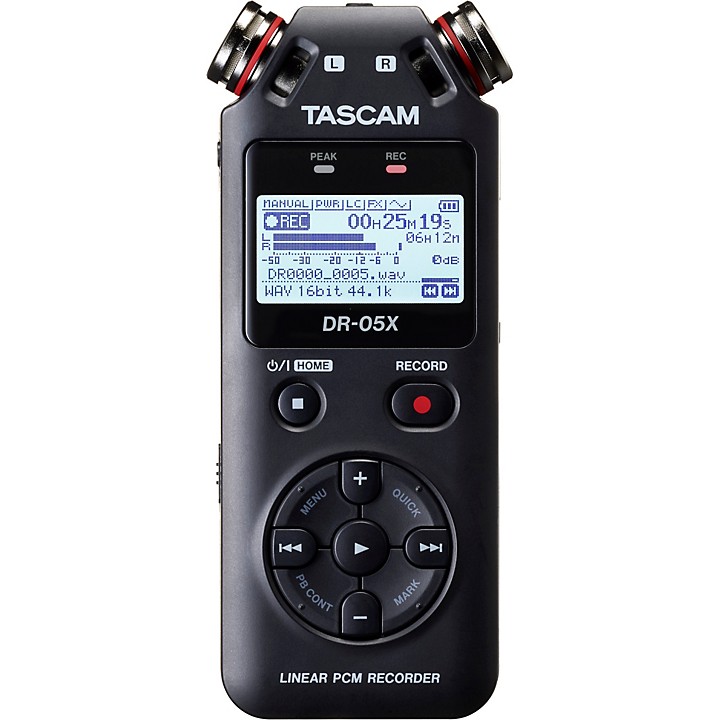 Stereo handheld digital audio recorder and USB audio interface.
The TASCAM DR-05X is a compact, versatile, professional-grade digital audio recorder that fits in the palm of your hand.

Record clean and clear audio
The DR-05X is equipped with dual integrated professional-quality condenser mics to capture crystal-clear recordings. It features omnidirectional stereo mics that are perfect for dictation, music and more.

Easy to operate
TASCAM created a totally revamped user interface, making it easy to adjust levels, delete takes, add markers and perform other common functions with the push of a button. Its bright-white backlit display is easy to see, even in sunlight.

Turn your home computer room into a studio
The DR-05X also serves as a computer-based recording interface, incorporating a studio-quality 2-in/2-out USB audio interface. This feature makes the DR-05X a perfect fit for live streaming, podcasting and digital audio workstations. The built-in condenser microphones operate as USB microphones without any complicated settings changes.

Multi-language interface inside
Multi-language menus in English, Spanish, French, Italian, German, Russian, Chinese, Korean, Japanese and Portuguese are included.

Dictation mode
In addition to its capability to capture crisp voice recording, the DR-05X handheld digital audio recorder can help you with its instant Jump back function, variable Speed function and equalizer preset for human voice.

Auto-start
The DR-05X can automatically start recording when an input signal is detected, and Peak Reduction technology guards against sudden spikes in loudness. Recording modes include Overwrite Mode, which allows users to select a precise Record drop-in time for replacement recording with one level of Undo. Nondestructive Overdubbing allows you to record new sounds onto an existing recording while leaving the original file unaffected.

Record higher quality for longer periods of time
DR-05X supports studio-quality linear PCM recordings up to 96kHz/24-bit WAV/BWF format, as well as memory-friendly MP3 format. With extended battery life and increased capacity for microSDXC cards up to 128GB, DR-05X recorders can quite literally record for days on end.

Features
Ideal for voice and music recording
Stereo omnidirectional condenser microphones
Integrated 2-In/2-Out USB audio interface for PC or Mac
Overwrite function for punch-in replacement recording, with one level of Undo
Dictation mode to instantly jump back playback
Includes speed control and a special dictation EQ
Auto Recording function (starts recording when sound level is detected)
One-touch user interface with menu button for all common functions
Up to 17.5 hours of battery life with standard AA alkaline batteries
High-capacity microSDXC card capacity for hundreds of hours of recording time