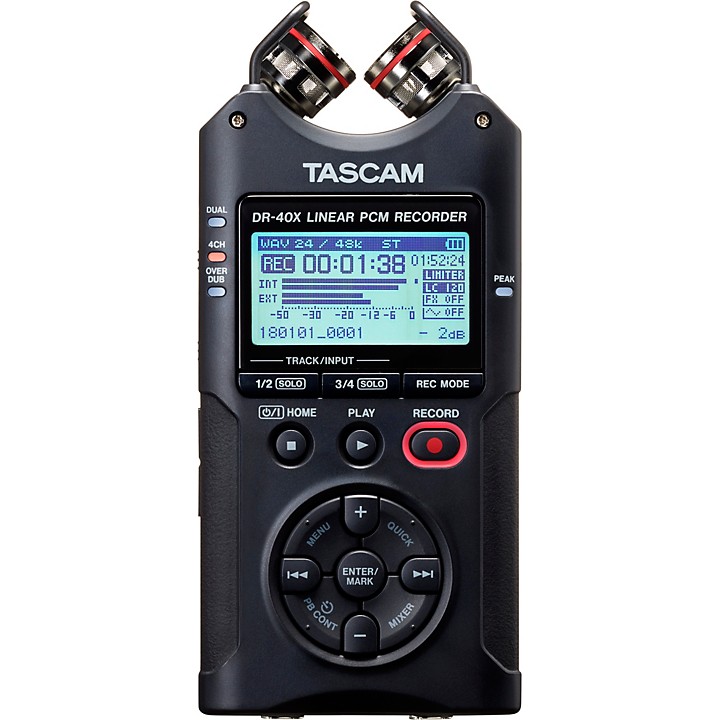 Four-track digital audio recorder and USB audio interface.
The DR-40X is a versatile four-track audio recorder for cinema, music, podcasting and any other application where clear capture and quality overdubbing is critical. The easy-to-use compact design integrates a high-performance feature set and versatile audio I/O.

Professional I/O for live capture or line level input
Dual Neutrik XLR/TRS combo jacks support both mic-level and +4dBu line-level. The DR-40X inputs can accept balanced microphone or line level from mixers or the front-of-house console. The microphone preamp also includes +48V phantom power and plenty of gain for detailed recordings using condenser microphones, as well as electret microphones. Using the stereo built-in microphones, you can capture ambient sound of the surroundings while recording direct from an external console—ideal for live performance.

Record clear audio anywhere
DR-40X allows high-quality recording with its stereo built-in condenser microphones. Every detail is captured from a whisper all the way up to 125dB. The built-in microphones are adjustable unidirectional microphones for recording in an X/Y pattern for tight stereo imaging, or in an A/B pattern for a more ambient recording.

Easy to operate
TASCAM created a totally revamped user interface, making it easy to access recording, adjusting levels, deleting takes, adding markers and other common functions with just the click of a thumb. And DR-40X now includes a powerful bright-white backlit display that's easy to see even in the brightest sunlight.

Turn your room into a studio
The DR-40X offers a studio-quality 2 in/2 out USB audio interface, making the DR-40X a perfect fit for livestreaming, podcasting and digital audio workstations. Built-in microphones operate as USB microphones without complicated settings changes.

Multi-language interface inside
Multi-language menus in English, Spanish, French, Italian, German, Russian, Chinese, Korean, Japanese and Portuguese are included.

Dictation mode for voice recording and transcription playback
In addition to its capability to capture crisp voice recording, DR-40X can help you with its instant Jump back function, variable Speed function and equalizer preset for human voice.

Safety track
Filmmakers and videographers often experience sudden audio volume spikes during filming. An actor could suddenly scream, or a documentary subject could do almost anything. DR-40X has a Dual Recording mode that captures a copy of your take but at a lower level, as a safety track in case of sudden distortion.

Four-track recording mode
In addition to normal stereo channel recording and Dual Recording mode, DR-40X has "4CH Mode" that can record two different stereo feeds simultaneously. The combination of the sources are flexible; recording the built-in microphones along with a pair of external mics, such as close-up and ambient microphones, or recording the built-in mics along with a balanced line input, such as the feed from a mixer along with the sound in the environment.

Never miss a take
DR-40X is equipped with Auto Recording functionality to automatically start recording when an input signal is detected, and Peak Reduction technology to guard against sudden spikes in loudness. Recording modes include Overwrite Mode, which allows users to select a precise record drop-in time for replacement recording with one level of undo, and Nondestructive Overdubbing allows you to record new sounds onto an existing recording while leaving the original file unaffected.

Record higher quality for longer
The DR-40X allows studio-quality linear PCM recordings up to 96kHz/24-bit WAV/BWF format, as well as memory-friendly MP3 format. With extended battery life and increased capacity for microSDXC cards up to 128GB, the DR-40X can literally record for days on end.

Features
The ideal choice for DSLR filmmakers, musicians, sound designers, podcasters, and more
Dual unidirectional stereo condenser mics scalable for A/B or X/Y recording
XLR/TRS combo inputs compatible with +4dBu line level/+48V
Built-in +48V phantom power
4-channel recording mode for nondestructive overdubbing or multi-track recording
Integrated 2-In/2-Out USB audio interface for PC or Mac recording, podcasting
MS Decoding functionality for Mid-Side microphones
Optional RC-3F foot switch and RC-10 wired remote control
Overwrite function for punch-in replace recording, with one level of Undo
Dictation mode to instantly incrementally jump back playback including speed control and a special dictation EQ
Auto Recording function starts recording when sound level is detected
Simple one-touch user interface with QUICK menu button for all common functions
Extended battery life up to 17.5 hours with standard AA alkaline batteries
High-capacity microSDXC card capacity for hundreds of hours of recording time