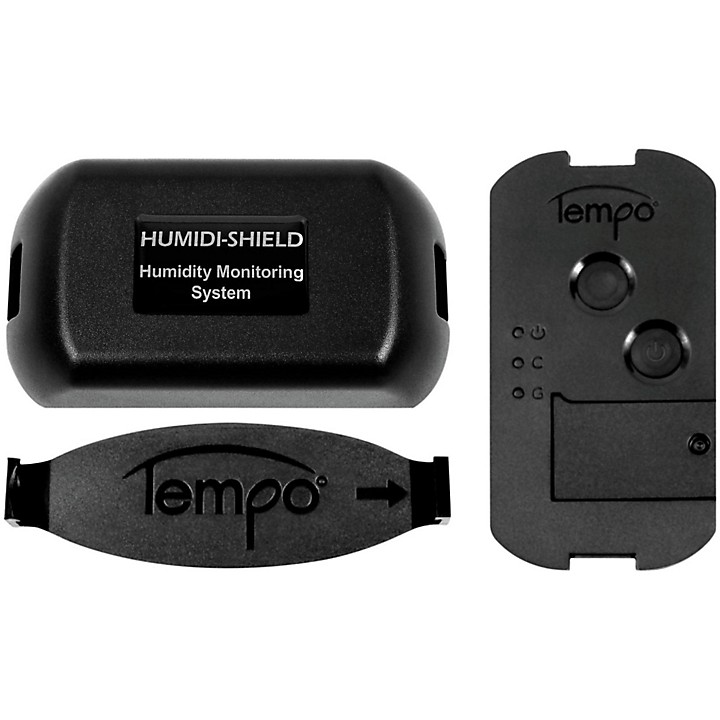 Always know where your gear or instruments are with this GPS tracking system.
The Tempo AnyCase Device is a small, lightweight and powerful GPS device that lets you track and monitor your instruments, audio equipment and gear. Designed specifically for musicians, the AnyCase Device mounts easily and securely inside any instrument case or directly onto larger objects like keyboards, pianos, speakers and mixing consoles.

Free mobile app and online tempo tracking portal
The Tempo Tracking Mobile App lets you track and monitor your belongings from anywhere in the world using your Apple or Android mobile device. You can also log into the Tempo Tracking Portal from any computer to track and to manage your account.

Exclusive Camouflaged Desgn
The AnyCase Device is completely camouflaged so that it isn't recognizable as a tracking device. It even comes with a false "Humidi-Shield" professional label that makes it look like a humidity monitoring device.

Motion and Geofence Alerts
The AnyCase Device can alert you by text message and email if anyone moves your instrument or gear without your knowledge. You can also draw Geofence boundaries around areas on the map that your belongings shouldn't leave or enter and your device will notify you if it crosses any of your Geofence boundaries.

Long Battery Life
The battery will last up to 3 months, depending on your settings, and the Tempo Tracking system offers a variety of tracking modes. The device can report as often as every 30 seconds for emergency situations or as infrequently as every 24 hours for extended battery life. You can easily change tracking modes from your smartphone, tablet or computer.

International Tracking
The AnyCase Device works in more than 120 countries around the world so that you will always be able to keep track of your instruments and gear wherever you are.

Flexible, affordable tracking plans are available through Tempo, including their Unlimited International Tracking Plan. Low-cost tracking plans are available for use in the U.S., Canada and Europe. Tracking plan options are available on the Tempo Cases website.

Features
Small and lightweight tracking device (smaller than a business card)
Discreet, camouflaged design with nothing to indicate that it is a tracking device
False "Humidi-Shield Humidity Monitoring System" label make it looks like a humidity monitoring device
Mounts easily and securely inside any case or bag, or directly onto larger objects
Free tracking app for Apple and Android mobile devices that lets you monitor your property remotely from anywhere in the world using Tempo's sophisticated, interactive mapping system
Web-based tracking and account management platform with secure access from any computer
Long battery life - up to 3 months depending on your settings
Quickly and easily change tracking modes from anywhere in the world using the Tempo Tracking app from your smartphone, tablet or computer
Draw custom Geofence boundaries around areas on the map that your property shouldn't leave or enter and your AnyCase Device will notify you by text message and email if it crosses any of your Geofence boundaries
Can send you motion alerts by text message and email if anyone moves your property without your knowledge, and can automatically report its location to the map as it moves
Wide variety of tracking mode options available, including high-frequency tracking for emergency situations and low-power tracking modes for extended battery life
Multiple mounting bases available, allowing you to easily move devices from one item to another
Works internationally in more than 120 countries around the world; can be used for international travel and for long-term or permanent use in other countries
Potential insurance discounts for companies and individuals that use Tempo products to track and monitor their property; Tempo has relationships with a number of insurance companies that strongly endorse our products, and we are constantly expanding our network of insurers
Easy to recharge using our wall outlet charger, car charger, or by plugging into any standard 5V USB port on a computer or vehicle
Can attach to an external battery for extremely long battery life
Flexible, affordable monthly tracking plans available, including international tracking plans
Excellent customer service available for the Tempo Tracking GPS System