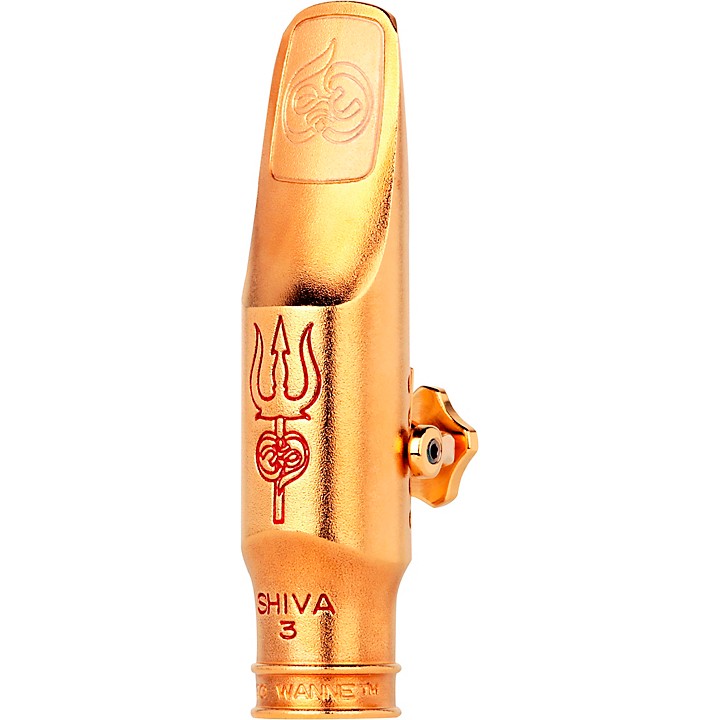 24K gold plated brass produces dynamic, powerful sound.
The SHIVA 3 'The Destroyer' mouthpiece has even more power, fullness and ease-of-play.

The SHIVA 3 uses Theo's newest design technology to optimize the airflow across the high step baffle. This means more dynamics, to the effectiveness of the airflow; you can literally put more air into the mouthpiece, but doing so with greater ease. This makes the SHIVA 3 a very expressive mouthpiece. Of course, the SHIVA 3 also includes the Theo Wanne proprietary "shark-gill" chamber too. These features give the SHIVA huge power and edge making it suitable for Rock n' Roll, R&B or any situation where dynamics and power are important.

The SHIVA Tenor is available in 24K gold plated brass. Like all Theo Wanne products, the SHIVA is made using state-of-the-art design and manufacturing technologies. You will receive the most consistent and highest quality mouthpiece available in history.

The SHIVA is currently being used by Gerald Albright, Warren Ham on tour with Ringo Starr, as well as by Mark Douthit (Elton John, Michael McDonald), Najee, Nelson Rangell and many others.

"I love the Shiva! I'm a happy man. I love the brightness and the added bonus is how 'full-bodied' it is." – Gerald Albright (3 Grammy Nominations)

"I just stopped and said wow - I feel like I've come home! The SHIVA is very aggressive and great for those screaming tenor solos." - Mark Douthit (Elton John, Billy Joel, Lionel Ritchie, Amy Grant, Vanessa Williams, Garth Brooks, Billy Ray Cyrus)

"I have been a Rock & Roll and Blues-Rock sax player since the late 50's when I performed with some of the early pioneers of rock and rockabilly as a teenager. Early in my career I had the vintage Duck Bill Bergs, Dukoff's and Brillhart Level aire's. Later on it was Guardala's and a Clarence Clemon's favorite - the Rovner Deep V. But with all the credibility of my many years wailing a tenor sax to back me up, this latest mouthpiece, SHIVA the Destroyer from Theo Wanne, tops them all. It brings back the edge, projection and brightness of the classic vintage pieces, but with a less shrill tone, more volume, and a easier bottom end. The DESTROYER came along late in this rocker's career, but I'm sure thankful it did!" - Ace Barton (Bobby Vee, The Champs "Tequila fame")
Specifications
Features
Case: Leatherette Case
Plating: Reticulated 24K Gold plating.
Ligature: Integrated two-point contact Gold Liberty Ligature and Alive Gold pressure plate
Cap: Patented Reed Replacer Cap
Bite Pad: User replaceable bite pads allow you to peel and stick on new bite pads
Features
Sound
Great for Jazz, R&B, Rock n' Roll, and even softer music when a sweet tone with clarity is wanted.
Projects a sensual tone that makes everyone want to dance.
It is so unique; it really has to be played to be understood and believed.
Design
Theo Wanne proprietary "shark-gill" chamber. Uniquely shaped long step baffle, with roll-over.
Crafted to the highest accuracy in the history of saxophone mouthpieces.
Designed by Theo Wanne, the foremost expert on the design and manufacturing of vintage and new mouthpieces.
WARNING: This product can expose you to chemicals including Lead, which is known to the State of California to cause cancer, and to cause birth defects or other reproductive harm. For more information go to www.P65Warnings.ca.gov.