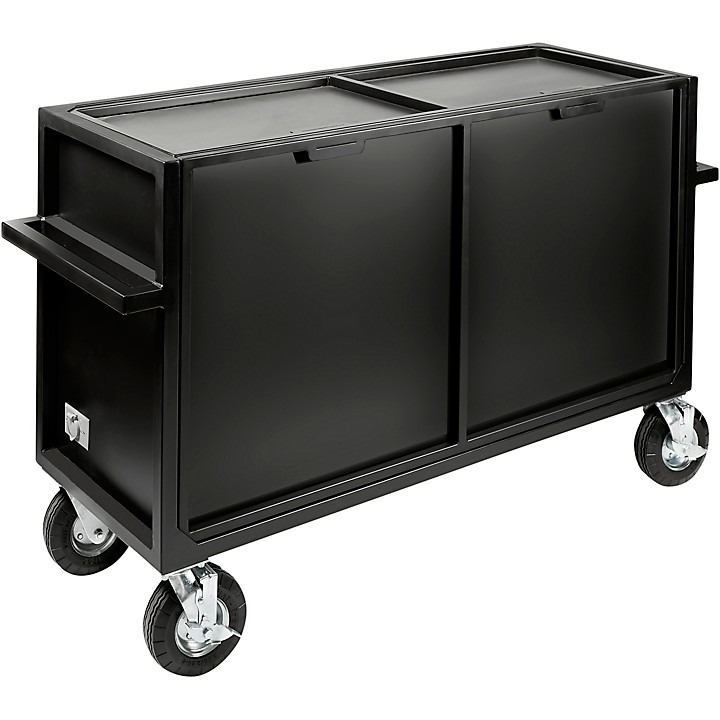 Strong, stable and durable percussion frames, racks and carts.
The sleek design of the Titan Covered Synth Frame is engineered to handle the challenges of transporting and safeguarding your equipment. Manufactured from 1.5" steel tube and sheet panels – no plastic, no wood. The Titan Covered Synth Frame provides a clean, simple aesthetic while giving you the stability and durability needed so you're ready to go straight off the truck.

The 11U rackmount unit is stabilized with rubber isolators, the highest quality shock absorbing technology in the industry, to ensure your equipment is fully protected. The power capabilities provided are unmatched with 4 USB charging ports and both surge and non-surge protected power outlets. Titan's carpeted surface provides padding for your equipment and allows you to Velcro your equipment in place so it doesn't slide around while in transport.

Specifications
Outside dimensions (HxWxD): 43 x 70 x 24 in.
Top Shelf (WxD): 60 x 17.5 in.
Features
6 power outlets + 4 USB outlets
11U rack mount with shock absorbing rubber isolators
Internal 1.5" auxiliary rail
Top and Front containment panel
Weather proof power inlet
4 x No flat casters