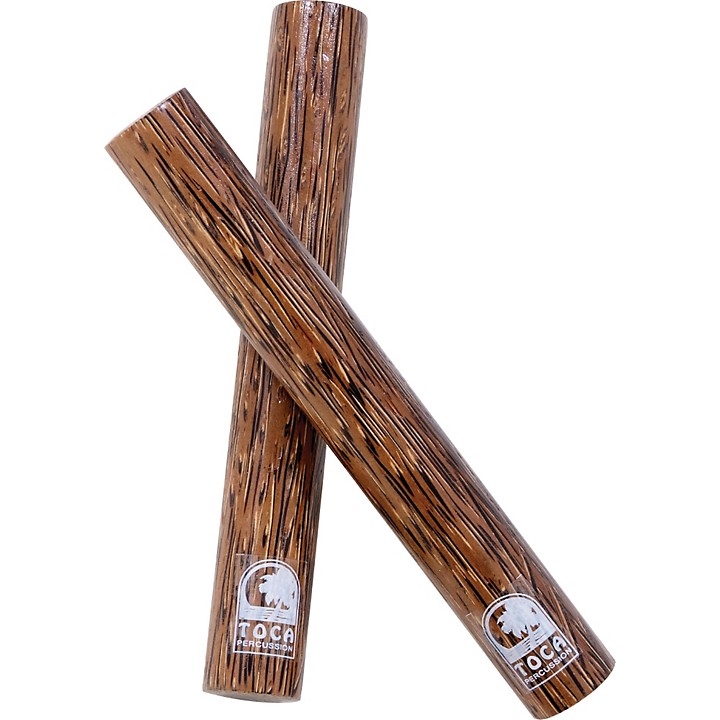 Well-balanced tone sure to find its way into studios, clubs and concert halls.
The Toca Palm Wood Claves are made from traditional materials, sized 8" long and 1-1/2" wide and matched to provide the authentic, high-pitched clave sound. Palm wood, aside from its beautiful, contrasting grain, is the ideal wood for claves. It is very hard and endures repeated striking without chipping. The wood won't compress or suffer a dip in pitch or decrease in sustain. The passive clave (the one held loosely struck by the other clave) feels comfortable, not jarring.

Claves are basically two sticks of wood that have attained enormous significance in Latin music and culture. The clave rhythm is acknowledged as the key to Afro-Cuban musical arrangements and provides the basic pulse. In short, the clave, the instrument and the rhythm, is as essential to Afro-Cuban music as the surdo, the instrument and the muted/open tone, is critical to driving Brazilian samba marches.
Features
8" long and 1-1/2" wide
Matched pair
Palm wood
Comfortable feel