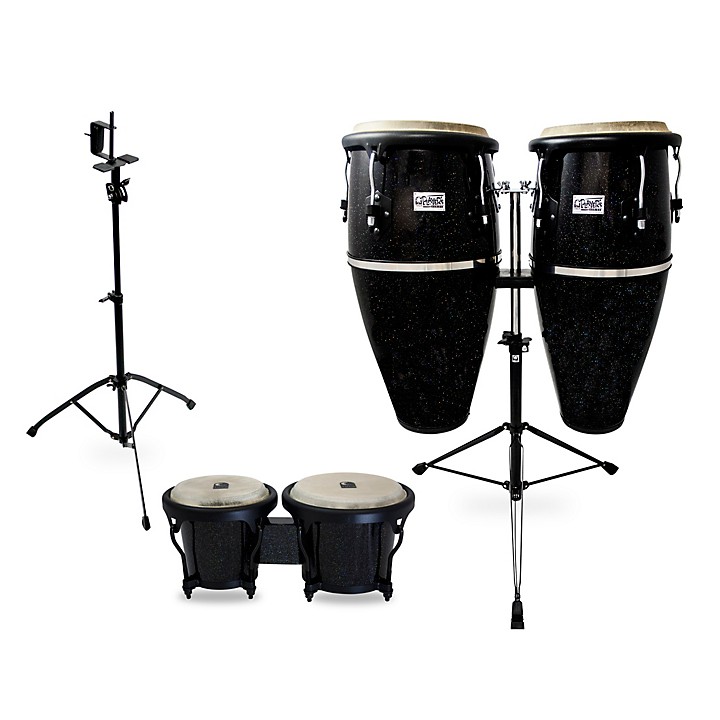 Combination conga/bongo bundle in black sparkle lacquer with stands included
With this Player's Series conga and bongo set, Toca is offering a full suite of high-quality Latin hand drums, bundled together at a low price.

This matching set is the ideal all-in-one purchase for players branching into hand percussion, but it's also perfect for experienced players looking to refresh their rig. No matter the percussionist, it's difficult to go wrong at a price like this. All four drums are fixed with bison heads, high-end hardware, sturdy tuning bolts and a premium black sparkle finish from Toca's premium lines. And with all the necessary stands included, you'll have a full rig of hand drums ready to set up and play, right out of the box.

Sharp, high-quality congas you don't have to fuss over
Toca Player's Series conga drums are an easy combination of stylish and practical. The pair of fiberglass shells feature standard 10 and 11" diameters, and they come with a height-adjustable stand built specifically for Toca congas. The fiberglass shell material ensures brightness and tonal clarity, and unlike wood, it is resistant to water and temperature changes. That means gigging drummers can bring these congas to outdoor gigs with confidence, and casual players don't have to worry about bringing them on camping trips, beach weekends and other outings where the drumming mood could strike.

Professional features include genuine tucked bison heads, powdercoated black hardware and four countersunk carriage bolts for wide tuning range. Add the black sparkle lacquer finish, and you've got all the hallmarks of a high-end Latin percussion instrument, with durable construction you don't have to fuss over. As sharp as they look, these drums are designed to be played — anytime, anywhere.

A pro-quality bundle with matching bongos
To add value to this special package, Toca is also including a matching set of Player's Series wooden bongos. Designed to complement the larger congas in both style and sound, these 6 and 7" shells are made from two-ply Asian oak that adds a dash of wood tone to the cutting, high-pitched attack that bongos are known for. These lightweight, portable drums make the perfect grab-and-go travel instrument, or you can mount them alongside the congas for a progressive set of 6, 7, 10 and 11" hand drums.

Just like the congas, these Player's Series bongos feature tucked bison heads, black powdercoated hoops and a premium black sparkle lacquer finish. Bongo stand included.

Whether you're new to hand drums or a seasoned player, this matching bundle lets you look and sound like a pro in any playing situation, all at a excellent price.

Features
Matching pairs of conga and bongo hand drums in black sparkle finish
Congas feature 10 and 11" durable fiberglass shells
Bongos feature 6 and 7" Asian oak shells
All drums feature black powdercoated EasyPlay hoops
Tucked bison heads offer warm, authentic tone
Includes conga and bongo stands