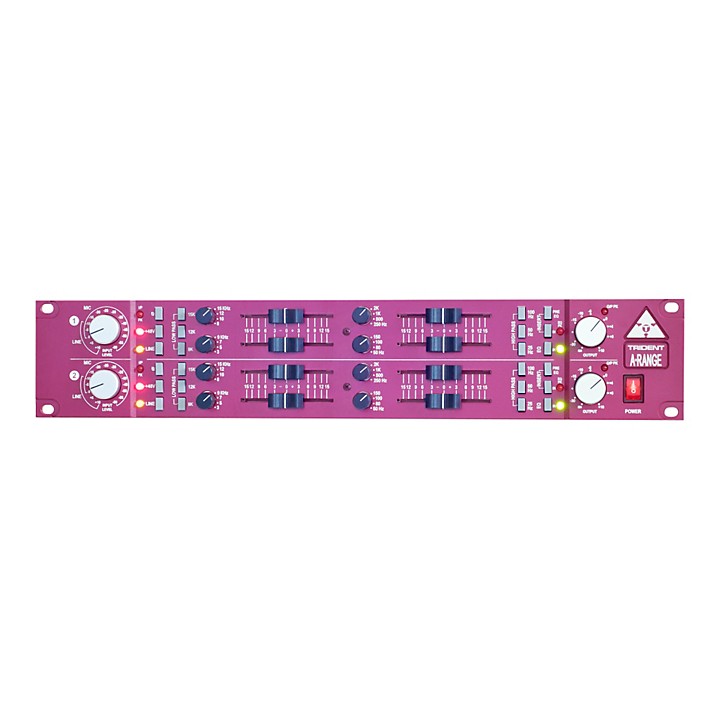 Two channels of rock history.
There are some recording consoles who by virtue first of their unique sound and secondly because of the historic recordings that were made on them, have developed an iconic, indeed very nearly sacred status. The Trident A-Range is one such console.

Trident Studios was adopting the new 16 and 24 track tape machines in the early 1970s, and lead engineer Malcolm Toft along with Barry Porter designed the Trident A-Range console, which was subsequently used for major recordings by David Bowie, Queen, Rod Stewart, Elton John and numerous other major artists' most well-known recordings. There were only 13 original A-Range consoles made, so it is unlikely that you'll be strapping one into your own home studio anytime soon, but you can get the next best thing: two channels of direct replication.

The A-Range Dual Channel is a rackmount strip containing two channels of the Trident A-range. Its EQ and its line/mic amplifier, and perhaps more importantly, the way the EQ and preamp work together to create a big rock sound that charmed a generation.

Input section
The input section of the A-Range rack consists of a very high quality transformer-coupled discrete microphone amplifier and transformer-coupled discrete line amplifier designed specifically for professional audio applications.The microphone and line transformers are custom designed to the exact original Trident A-Range specifications.

The microphone amplifier is designed to handle signal levels from -60dBu to as high as +10dBu without needing a separate pad switch. The 15-position combined mic/line gain switch is calibrated in accurate 5dB steps to provide precise matching of either microphone or line level signals. In conjunction with the 'Output' level control, very fine adjustment of signal level is achievable. The preamplifier exhibits very low noise while maintaining extremely fast transient response and a frequency response that extends beyond 40kHz. Naturally, best results are achieved when using a high quality condenser microphone. The microphone amplifier will also bring out the best in dynamic and ribbon microphones.

Equalization
The legendary A-Range equaliser is a unique and amazingly musical sounding equaliser - owing much to its all-discrete transistor circuitry and the use of inductors in the lower and upper mid range. The mid EQ sections are 'peaking', while the high and low range sections are 'shelving'.

Each of the four bands is rotary-switch-selectable to any one of four frequencies, while individual push buttons engage the three high pass and three low pass filters.

A novel feature of the original A-Range console and incorporated in this unit, is the use of long- throw faders for level adjustment, rather than rotary potentiometers. These faders feature a useful centre dedent at mid travel to denote zero boost or cut of the selected frequency. The use of faders makes it very easy to see not only when equalisation is being applied, but also the amount. A notable difference in the operation of the sliders on the rack unit, versus the original A-Range console, is one of physical orientation: the old console sliders move vertically, while the rack unit sliders move horizontally.

Accordingly, on the consoles, the slider moved up to 'boost' and down to 'cut', whereas the rack version moves right to boost and left to cut. For most users, the layout adopted here will seem logical. However for some engineers, accustomed to working with old A-Range modules mounted sideways, this will seem backwards. This particular aspect of the design was the subject of much consideration but in the end, it was decided that the rack unit should have a more conventional 'right to boost, left to cut'.


Specifications
Input Impedance:
Microphone: 600 ohm transformer balanced
Line: 10k ohm transformer balanced
Output Impedance: <100 ohm transformer balanced
Gain:
Microphone: 0dB to +60dB
Line: -10dB to +10dB
Noise:
Microphone: <-126dBu ref 150 ohm (20Hz-20kHz)
Line: <-85dBu (EQ In, 20Hz-20kHz)
Maximum Levels:
Mic Input: +24dBu at all frequencies
Line Input: +24dBu at all frequencies
Distortion:
Mic Input: <0.05% T.H.D. (-50dBu input, +4dBu output)
Line Input: <0.05% T.H.D. (+4dBu input, +4dBu output)
Frequency Response:
Mic Input: ±1dB 20Hz to 20kHz
Line Input: ±1dB 20Hz to 20kHz
Nominal Operating Level: +4dBu
Peak LED Threshold: +15dBu
Features
All discrete transistor circuitry
Highly musical EQ
Colorful preamp
Silent operation
Unique character of sound