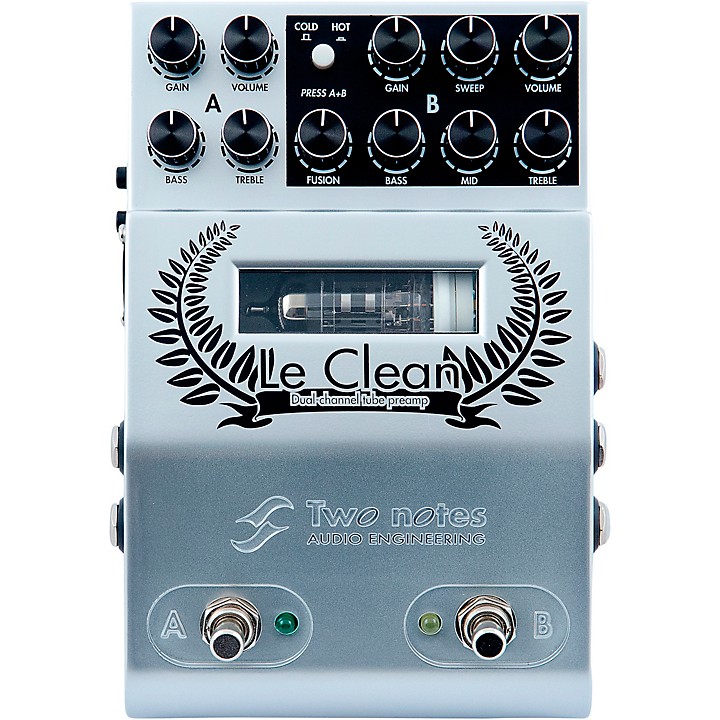 Get that classic California clean tone from this cutting-edge preamp pedal.
The Two Notes Audio Engineering Le Clean takes its inspiration from the classic amps of southern California in all shades of brown, black and silver. Channel A has a pure ultra clean texture. Channel B lets you bring in classic sweet overdrive of a dark desert highway. The Cold Fusion mode gets right to the heart of Texas while Hot Fusion takes you out of the blue and into the gnarliest Tweed tones.

From the moment Two Notes launched the Torpedo C.A.B., they believed it was possible to build a high quality pedalboard to entirely replace a conventional tube amplifier system: the complete floor rig. Even with an almost limitless choice of available guitar effects, finding a very good preamplifier in a pedal format was challenging. This is why Two notes is proud to premier its line of tube preamplifiers: Le Clean, Le Crunch, Le Lead and Le Bass.

The selection of a preamplifier is the core of your overall tone and thus requires the greatest attention. When building a complete floor rig, only the very best will make the cut. The Two notes preamplifiers are a True High Voltage Design running internally at 200 volts to preserve the interaction between you and your guitar while working perfectly with your other effect pedals. Each of the four different versions deliver the unique tube warmth, dynamics, and the musical compression from the amps we know and love, now in a more convenient pedal package. And, of course, you can use them as an elaborate tube overdrive, in front of your favorite amplifier!

Two channels plus fusion mode
The A and B channels are totally independent, each with their own voicing and eq section: Bass and Treble on A, Bass, Mid with Mid Sweep and Treble for B. On Channel A you will find a lower gain tube stage with a pre-gain EQ using a more vintage design approach, while Channel B offers more gain and a very powerful post-EQ (with mid sweep). The exclusive Fusion modes open new horizons.

Switching & multi-channel mode
Each preamp features 2 channel footswitches, A and B. Simultaneously pressing A and B will ac- tivate the Fusion mode. Pressing A, B or A and B will also send a specific Midi Program Change command, that can be used to select a preset on your Midi multi effects and/or Torpedo C.A.B.. In addition, the preamplifier may respond to a Program Change sent from another Midi device al- lowing a seamless integration into any pedalboard switching system. Combining several Two notes preamps on your pedalboard makes things really interesting.

Connected via Midi, each preamp will listen to the others. They can be configured in Multi-channel mode: pressing A on preamp 1 will by- pass preamp 2, like the channels of an amplifier. Alternately, when this mode is off: traditional on/off switching for all preamps, a preamp can be a boost/overdrive for the one that follows.

High-quality electronic design
Two notes is first and foremost a team of music lovers who are all great admirers of musicians. The folks at Two Notes are highly qualified engineers, technicians, and musicians, whose purpose is to facilitate the life of guitar and bass players without infringing on their playing habits. Their mission consists in providing them with studio-grade products that are specifically designed for the guitar and bass.

Integrated speaker simulation
This analog speaker simulation is specifically voiced for your Le Preamp Model, and based on the Two Notes Torpedo simulator. This speaker simulation affects the DI output and the Headphones output.

Connections
Le Preamp can be used in various configurations: as a traditional preamplifier, it can be connected to a power amplifier and cabinet, or in the Return input (or Power Amp In) of a guitar or bass amplifier. Placed before an amplifier, it acts as a boost, overdrive or distortion pedal. Alone or with the Torpedo C.A.B., it can also be an autonomous system, light and small, ready to be directly connected to a mixing board on stage as well as in the studio. By simply plugging your headphones, you can play silently. Connect it to your sound interface for perfect recordings using Wall of Sound.

MIDI
5 basic functions can be accessed through MIDI Program Changes (PC) sent by an external MIDI device :
Canal A
Canal B
Cold Fusion
Hot Fusion
Bypass
In other words, your Le Preamp can receive a MIDI PC asking for bypass or channel switch. Any MIDI message received will be transmitted to the MIDI output (MIDI Thru function).

When using Le Preamp as a MIDI controller, you will be able to send a MIDI PC to trigger preset changes on another MIDI device, such as a Torpedo C.A.B. or an FX unit.

Le Clean comes with a 16 cabs license for Wall of Sound
Wall of Sound (WoS) is a speaker and miking simulation plugin. A plugin is a software you can load on a track of your sequencer, such as Cubase, Logic, Pro Tools, Reaper, inside your Digital Audio Workstation.

With your Le Preamp, Two Notes gives you access to 16 virtual cabinets you can load in their award-winning Wall of Sound plugin. With your Le Preamp and WoS you have the best configuration to record amazingly good guitar or bass tones for all your musical projects.

To download your 16 cabinets, register your product on the Two notes Website, download and install the Wall of Sound (WoS) plugin. You will be guided step by step through the process.

Once you have become familiar with the sound and operation of the Wall of Sound plug-in, please feel welcome to explore the in-app Two notes Boutique which will allow you to audition and have the option to purchase additional cabinets.
Specifications
Tube: Ruby 12AX7AC5 HG
Tone control
A channel: Passive Bass/Treble tonestack
B channel: Passive Bass/Treble tonestack – Active Mid/Sweep control – Gain : -18 to +6 dB – Freq : 300Hz à 1.5kHz
Input / Output
Input: Jack 6.35 mm unbalanced (TS, Tip/Sleeve) – Impedance : 1 MOhms
Return: Jack 6.35mm unbalanced (TS) – Max input level : 17 dBu – Impedance : 2,2 MOhms – Unbuffered, directly connected to Output when active
Output: Jack 6.35 mm unbalanced (TS) – Max output level : 11 dBu – Impedance : 300 Ohms
Thru: Jack 6.35 mm unbalanced (TS) – Unbuffered, directly connected to Inpu
Send: Jack 6.35 mm unbalanced (TS) – Max output level : 11 dBu – Impedance : 300 Ohms
DI Output: XLR, balanced – Impedance : 600 Ohms – Max output level : 10 dBu
Phones: Jack 3.5 mm stereo (TRS, Tip/Ring/Sleeve)
Power
Mains power adaptor DC Jack 2.1mm, negative center
Input voltage: 12V DC
Power consumption: approx. 6W
Current draw: 500mA
Dimensions: 4.88" x 7.44" x 1.97" (124 x 189 x 50mm)
Weight: 1.65 lb. (750g)