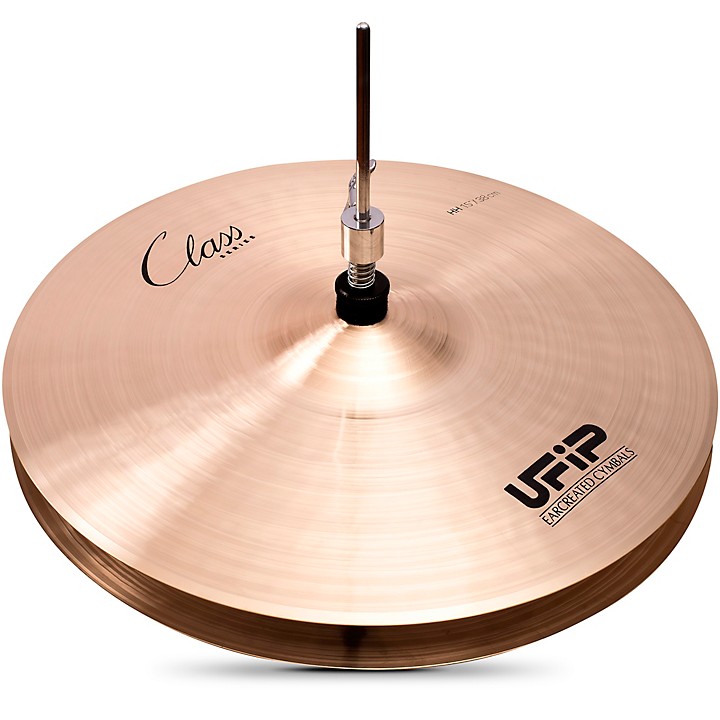 A pair of handcrafted medium-weight hi-hats that delivers power, volume and a cutting "chick" sound.
The UFIP Class Series Medium Hi-Hat cymbal pair is crafted from cast bronze B20 alloy using UFIP's Rotocasting technique. This thicker, medium weight, hand-hammered pair of hi-hats projects well, yet is versatile enough to fill the sonic space in any setting with a warm washy tone and a well-defined chick sound.

The Class Series is the result of more than 80 years of cymbals manufacturing, making Class the most complete and versatile series available. The Class offer more in every respect: more volume, more lively tone, more warmth, more dynamics and more fullness. They cut through in every musical surrounding, from classical music to Jazz, to Rock or Pop.

No other cymbal offers such a broad sound spectrum and so much dynamic potential. The SCS (Sound Control System) allows UFIP to classify every cymbal based on its final weight, using two categories, Medium and Low, giving the drummer a complete coverage of pitches.
Features
Medium weight
Cast Bronze B20 alloy
Cast using the "Rotocasting"® procedure
Completely hand made, cross hammered and hand finished
Perfect for rock, hard rock, pop, fusion, funk, acoustic, jazz, latin and world music
Versatile sound range, powerful but controlled, glassy and brilliant with a wide dynamic range