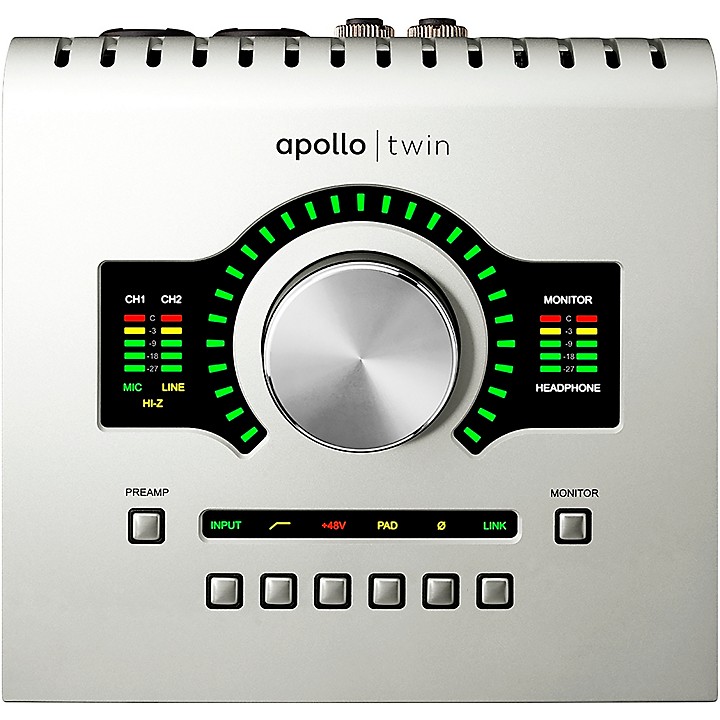 USB Desktop interface with Realtime UAD-2 DUO Processing for Windows Only.
Apollo Twin USB Heritage Edition has all the benefits of the acclaimed Apollo Twin USB, including impeccable 24-bit/192kHz audio conversion, DUO Core realtime UAD plug-in processing, and Unison preamp technology. And it goes a step further, with a software suite of five award-winning UAD plug-in titles, featuring Collections from Teletronix, Pultec and UA.

Special Edition Featuring Iconic UAD Analog Collections Onboard
A hallmark feature of Apollo is its Realtime UAD Processing, letting you run the full library of UAD plug-ins at near-zero latency. Taking you a step further, Apollo Twin USB Heritage Edition gives you 5 premium plug-in titles worth over $1,300—including the full suite of UA's Teletronix and 1176 compressors, all Pultec EQs, UA 610 Unison mic preamps and Pure Plate Reverb.

These premium Heritage Edition titles are in addition to Apollo Twin USB's included "Realtime Analog Classics" bundle, giving you the most accurate library of classic analog emulations included with any professional audio interface.

Two Unison Preamps: Get the Sound of Neve, Helios, API, Avalon & More
Apollo Twin USB Heritage Edition features two Unison-enabled mic preamps, letting you track through exacting mic preamp emulations from Neve, API, Manley, SSL, Avalon, Helios and Universal Audio.* A Universal Audio exclusive, Unison is a proprietary hardware-software integration that nails the tone of these sought-after tube and solid-state mic pres—including their input impedance, gain stage "sweet spots," and component-level circuit behaviors.

Unison technology is also found on Apollo Twin USB's front-panel Hi-Z instrument input, providing dead-on impedance and gain matching for guitar and bass amp models from Fender, Marshall, Ampeg and more.

Additional Connections
With its two Unison-equipped preamps, two analog line outs, and optical ADAT/SPDIF input—plus two digitally controlled analog monitor outputs—the 10 x 6 Apollo Twin USB Heritage Edition gives you the I/O you need for professional tracks and mixes.

*Apollo Twin USB Heritage Edition includes 5 premium UAD plug-in titles, plus the "Realtime Analog Classics" UAD plug-in bundle. Other UAD plug-ins sold separately.
**Apollo Twin USB is not compatible with LUNA Recording System.

Get Legendary UA Sound Natively With UAD Spark
Apollo Heritage Editions include plug-ins featured in UAD Spark, UA's subscription plug-in collection that runs natively on Mac, with no UA hardware required. With UAD Spark, you can expand your plug-in processing power, balancing your DSP load between Apollo and your computer's onboard processing.

Specifications
System Requirements
Windows 7, 8.1, or 10 (64-Bit Editions)
Available built-in* USB 3 SuperSpeed port
Intel Core i3, Core i5, Core i7, or Xeon processor*
6 gigabytes available storage
USB 3.0 SuperSpeed cable (included)
Internet connection to download software and authorize UAD plug-ins
Compatible VST, RTAS, or AAX 64 plug-in host DAW software
Notes
Quad Core i7 or better recommended
AMD processors are not tested or recommended
2-in-1 systems (notebook/tablet) are not recommended
USB 3 adapters (such as PCIe-to-USB 3 expansion cards) are not fully tested for Apollo Twin USB or UAD-2 Satellite USB connections. For more information, click here.
For USB 3 chipset compatibility information, click here.
Operating systems not listed above are untested. Although untested operating systems may work, they are not supported by Universal Audio. Prior UAD software for older operating systems and discontinued UAD products is available in the UAD software archives.
Pre-release and beta versions of operating systems are not supported.
For details on Windows 10 Fall Creators Update compatibility, click here.
Features
A special edition of UA's esteemed Apollo Twin USB interface with a premium suite of 5 award-winning plug-in titles from Teletronix, Pultec,and UA (a $1,300 value)
UAD DUO Core Processing for tracking through vintage compressors, EQs, tape machines, mic preamps, and guitar amp plug-ins with near-zero latency
World-class Apollo A/D and D/A conversion
USB 3 connection for modern Windows systems
Unison technology provides stunning models of classic mic preamps and guitar amps
2 premium mic/line preamps, 2 line outputs, front-panel Hi-Z instrument input and stereo headphone output
2 analog monitor outputs for full resolution at all listening levels
Up to 8 channels of additional digital input via optical ADAT/SPDIF input
Also includes "Realtime Analog Classics" UAD plug-in bundle featuring UA 610-B Tube Preamp Legacy Pultec EQ, LA-2A and 1176 compressors, Marshall Plexi Classic, Ampeg SVT-VR Classic, and more
Runs UAD Powered Plug-Ins via VST, AU, and AAX 64 formats in major DAWs
Compatible with Pro Tools, Cubase, Ableton Live, and more
Uncompromising analog design, superior components, and premium build quality
Free, industry-leading technical support—on the phone and online—from knowledgeable audio engineers
Included in Apollo "Heritage Edition" Bundle
UA 1176 Classic Limiter Collection
Teletronix LA-2A Classic Leveler Collection
Pultec Passive EQ Collection
UA 610 Tube Preamp & EQ Collection
Pure Plate ReverbIncluded in the Realtime Analog Classics Bundle
UA 610-B Tube Preamp & EQ
UA 1176LN Limiting Amplifier (Legacy)
UA 1176SE Limiting Amplifier (Legacy)
Pultec EQP-1A EQ (Legacy)
Marshall® Plexi Classic Guitar Amp
Pultec Pro EQ (Legacy)
Teletronix LA-2A Leveling Amplifier (Legacy)
Raw Distortion
Ampeg® SVT-VR Classic Bass Amp
Precision Channel Strip (Precision Mix Rack Collection)
Precision Reflection Engine (Precision Mix Rack Collection)
Precision Delay Mod (Precision Mix Rack Collection)
Precision Delay Mod L (Precision Mix Rack Collection)
RealVerb Pro Custom Room Modeler