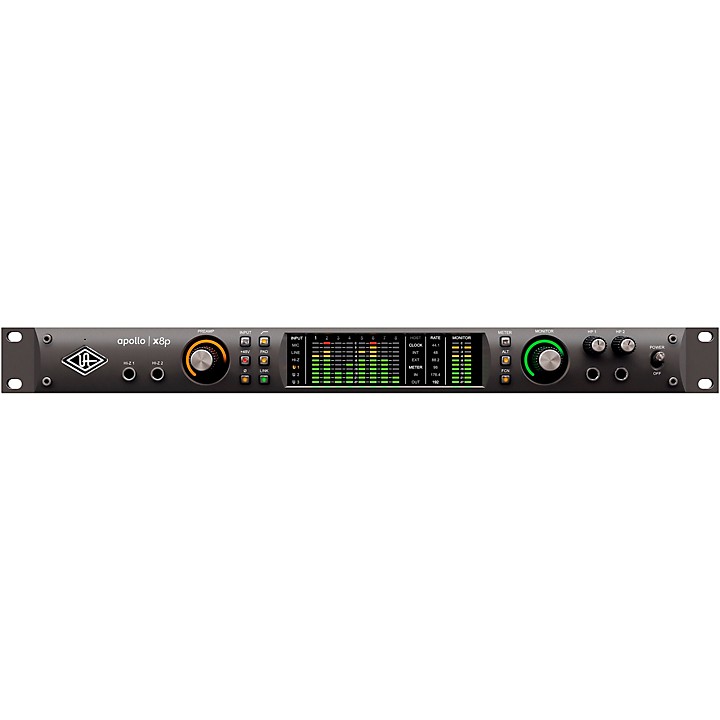 Universal Audio's acclaimed Apollo x8p Interface, with a bundled UAD plug-in package.
Apollo x8p Heritage Edition has all the benefits of the acclaimed Apollo x8p, including world-beating A/D and D/A conversion, HEXA Core UAD plug-in processing, Unison-enabled mic preamps and full LUNA Recording System integration. And it goes a step further, with a software suite of 10 award-winning UAD plug-in titles, featuring Collections from Helios, Fairchild,Teletronix, Pultec and UA.

Apollo x8p Heritage Edition comes with 10 premium award-winning plug-in titles valued at over $2,400—including the full suite of UA's Teletronix, 1176 and Fairchild compressors, Helios Type 69, V76 and UA 610 mic preamps, all Pultec EQs, Oxide Tape Recorder and Pure Plate Reverb. These premium Heritage Edition titles are in addition to the Apollo x8p's included "Realtime Analog Classics Plus" bundle, giving you the most accurate library of classic analog emulations included with any professional audio interface. A hallmark feature of Apollo is its Realtime UAD Processing, letting you run the full library of UAD plug-ins at near-zero latency.


Elite-Class A/D and D/A Conversion
With thousands of chart-topping songs and Grammy-winning albums under their belt, Apollo interfaces are no strangers to tracking stellar-sounding records. To improve on the previous generation Apollo interfaces' class-leading audio conversion, UA engineers obsessively auditioned the latest A/D and D/A converters—ultimately pairing elite-class 24-bit/192kHz converters with all-new analog circuitry for an ultra-pristine signal path.

Realtime UAD HEXA Core Processing
Apollo x8p Heritage Edition features HEXA Core processing, with six DSP chips and 50% more UAD plug-in processing power than previous Apollos. This lets you run more UAD plug-ins, whether you're tracking in real time with channel strips from Neve, Manley, SSL, Avalon, Helios or API, or running high UAD plug-in counts when mixing in your DAW.

Unison Technology—The Sound of Neve, API, Avalon & Manley Preamps
Perfect for engineers, producers and project studio owners, Apollo x8p Heritage Edition features eight Unison-enabled mic preamps, letting you track through exacting mic preamp emulations from Neve, API, Manley, SSL, Avalon, Helios and Universal Audio.* A Universal Audio exclusive, Unison is a proprietary hardware-software integration that nails the tone of these sought-after tube and solid-state mic pres—including their input impedance, gain stage "sweet spots" and component-level circuit behaviors.

LUNA Recording System—Deep Apollo Integration with a Fast, Natural Workflow
All Apollo X series interfaces work with all major DAWs, including Logic Pro, Ableton Live, Pro Tools and more. But they become a fully integrated recording system with LUNA, a powerful recording application for Mac from Universal Audio. Bolstered by Accelerated Realtime Monitoring, LUNA lets you track and mix in an intuitive single-window workflow with unlimited track counts, with full AU support and access to exclusive LUNA Instruments and Extensions.

Surround Sound Monitoring and +24 dBu Operation
With comprehensive surround monitoring support for formats up to 7.1, Apollo x8p Heritage Edition is a boon for engineers and producers working on audio and music for video games, television, and the web. In addition, Apollo x8p Heritage Edition offers selectable +24 dBu operation for out-of-the-box compatibility with professional mixing consoles and other high-end pro audio equipment.

Build a Networked Studio System Over Thunderbolt
Apollo x8p Heritage Edition offers 16 x 22 simultaneous inputs/outputs (8 x 14 analog I/O) and two built-in Thunderbolt 3ports, which are backwards-compatible with Thunderbolt 1 and two Macs via adapter (sold separately). This allows users of any Thunderbolt-equipped Apollo desktop or rackmount audio interfaces to easily combine up to four Apollos and six total UAD-2 devices.

Get Legendary UA Sound Natively With UAD Spark
Apollo Heritage Editions include plug-ins featured in UAD Spark, UA's subscription plug-in collection that runs natively on Mac, with no UA hardware required. With UAD Spark, you can expand your plug-in processing power, balancing your DSP load between Apollo and your computer's onboard processing.

Specifications
System Requirements
Thunderbolt 3 cable (not included)
Internet connection to download software and authorize UAD plug-ins
6 gigabytes available storage
Quad Core i7 or better processor recommended
For additional compatibility information, visit UA's website
Mac
Available Thunderbolt 1, 2, or 3 port
Thunderbolt 1 and 2 connections require an Apple Thunderbolt 3 to Thunderbolt 2 Adapter (not included)
macOS 10.12 Sierra, 10.13 High Sierra, 10.14 Mojave, or 10.15 Catalina
PC
Available Thunderbolt 3 port
Windows 10 (64-Bit Edition)
Features
A special edition of UA's acclaimed Apollo x8p interface—with a premium suite of 10 award-winning plug-in titles from Helios, Fairchild, Teletronix, Pultec, UA and more—a $2,400 value
16 x 22 Thunderbolt 3 audio interface with class-leading 24-bit/192 kHz conversion
Realtime UAD HEXA Core Processing for tracking through UAD plug-ins at near-zero latency, regardless of audio buffer size
8 Unison-enabled mic/line preamps—track through fully authentic preamp emulations from Neve, API, SSL, Manley, Avalon, Helios, UA and more*
LUNA Recording System—a fully-integrated recording application made for Apollo (Mac only)
Compatible with Logic Pro, Pro Tools, Cubase, Ableton Live and more
Surround monitor controller up to 7.1 format
UAD HEXA Core processing onboard for additional mixing horsepower for Pro Tools, Logic, Cubase, Ableton and other major DAWs
Combine up to 4 Thunderbolt-equipped Apollos and 6 total UAD devices; backward-compatible with Thunderbolt 1 and 2 Macs via optional adapter
Selectable +24dBu operation for easy compatibility with professional mixing consoles and tape machines
Convenient front panel monitoring functions including Alt Speakers, Talkback mic and assignable Dim or Mono
Uncompromising UA analog design, superior components, and premium build quality
Also includes "Realtime Analog Classics Plus" UAD plug-in bundle featuring UA 610-B Tube Preamp, Legacy Pultec EQ, additional LA-2A and 1176 compressors, Marshall Plexi Classic, Ampeg SVT-VR Classic, and more
Free, industry-leading technical support—on the phone and online—from knowledgeable audio engineers
Included in Apollo Heritage Edition Bundle
UA 1176 Classic Limiter Collection
Teletronix LA-2A Classic Leveler Collection
Pultec Passive EQ Collection
Fairchild Tube Limiter Collection
Teletronix LA-3A Audio Leveler
UA 610 Tube Preamp & EQ Collection
Helios Type 69 Preamp & EQ Collection
V76 Preamplifier
Oxide Tape Recorder
Pure Plate Reverb
Included in the Realtime Analog Classics Plus Bundle UA 610-B
UA 1176LN Legacy
UA 1176SE Legacy
Ampeg SVT-VR Classic
Fairchild 670 Legacy
Marshall Plexi Classic
Precision Channel Strip (Precision Mix Rack Collection)
Precision Reflection Engine (Precision Mix Rack Collection)
Precision Delay Mod (Precision Mix Rack Collection)
Precision Delay Mod L (Precision Mix Rack Collection)
Precision Enhancer Hz
Pultec EQP-1A Legacy
Pultec-Pro Legacy
Teletronix LA-2A Legacy
Raw Distortion
RealVerb Pro