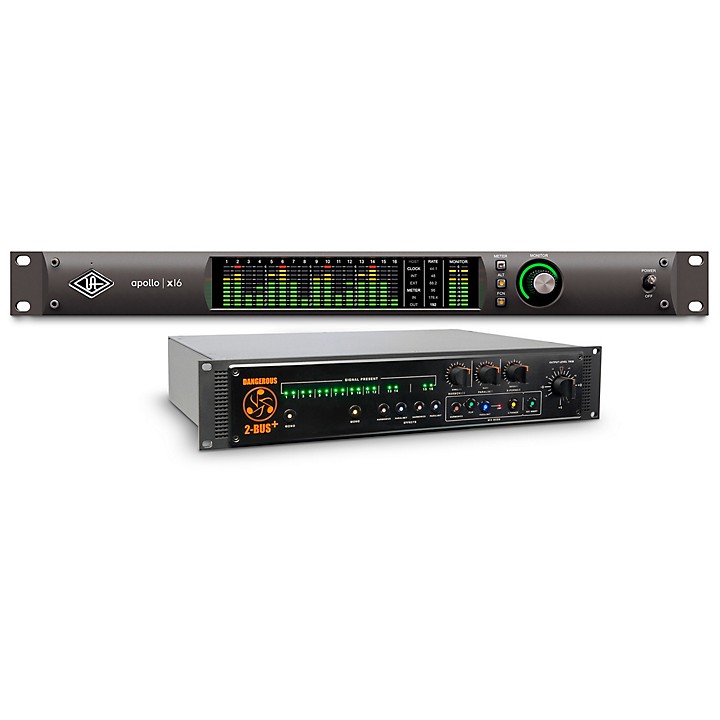 Pro-quality summing mixer and Thunderbolt 3 converter.
The Universal Audio Professional Streamlined Summing Bundle is perfect for anyone looking to combine multiple tracks into a main mix, including the 2-BUS+ 16-channel analog summing mixer and the Apollo X16 Heritage Edition Audio Interface. With a redesigned analog summing circuit that exceeds previous specifications, the 2-BUS+ delivers unsurpassed imaging, dimensionality, punch and headroom. While the 2-BUS+ active summing sounds incredible on its own, it also includes three custom color circuits that provide a vast array of flexibly routed tonal options. With its straightforward buttons and knobs, the 2-BUS+ puts endless combinations of robust analog sound at your fingertips. Unlike passive summing boxes that require huge amounts of make-up gain to restore the lost audio, or line mixers masquerading as "summing mixers," the active electronics in the 2-BUS+ result in a huge soundstage and audible three-dimensionality. Panning is wide and precise, reverbs spacious and deep, bass powerful and engaging, treble and mids articulate and interesting.

The Universal Audio Apollo x16 Heritage Edition is the flagship converter in UA's x Series. It connects easily to studio consoles, offering UA's world-class A/D and D/A conversion. In addition to all the benefits of the x16 interface, the special Heritage Edition adds a diverse package of premium UAD plug-ins at an unprecedented value. The UA x16 is an 18x20 Thunderbolt 3 converter with wide dynamic range and low signal to noise ratio. It features 16x16 analog I/O to connect your console via DB-25 and has a +24 / +20 dBu switch to dial in the perfect headroom settings. With HEXA Core processing, the x16 extends the limits of your plug-in processing. It features a built-in talkback mic and 7.1 surround sound monitoring. It has the tone, feel and real-time workflow of classic analog gear and will boost your recording workflow.

Get Legendary UA Sound Natively With UAD Spark
Apollo Heritage Editions include plug-ins featured in UAD Spark, UA's subscription plug-in collection that runs natively on Mac, with no UA hardware required. With UAD Spark, you can expand your plug-in processing power, balancing your DSP load between Apollo and your computer's onboard processing.

Specifications
System Requirements
Thunderbolt 3 cable (not included)
Internet connection to download software and authorize UAD plug-ins
6 gigabytes available storage
Quad Core i7 or better processor recommended
For additional compatibility information, visit UA's website
Mac
Available Thunderbolt 1, 2, or 3 port
Thunderbolt 1 and 2 connections require an Apple Thunderbolt 3 to Thunderbolt 2 Adapter (not included)
macOS 10.12 Sierra, 10.13 High Sierra, 10.14 Mojave, or 10.15 Catalina
PC
Available Thunderbolt 3 port
Windows 10 (64-Bit Edition)
Features
Dangerous Music 2-BUS+ 16-Channel Analog Summing Mixer
16 channels of incredible active analog summing, that even surpasses the original
Three distinctive analog color options: Harmonics, Paralimit and X-Former
Effortless routing and blending of analog color circuits via elegant user interface
Switchable stereo analog insert for easy outboard gear integration
Massive sounds, sacrificing no detail
Crystal clear sonic imaging and three-dimensionality
Endless headroom for modern digital signal levels
Stepped output gain control for exact recalls
Both XLR and D-Sub input connectivity
Audiophile-grade components throughout
Universal Audio Apollo X16 Heritage Edition 16-Channel Thunderbolt Audio Interface
A special edition of UA's acclaimed Apollo x16 interface—with a premium suite of 10 award-winning plug-in titles from Helios, Fairchild, Teletronix, Pultec, UA and more—a $2,400 value
18 x 20 Thunderbolt 3 audio interface with class-leading 24-bit/192 kHz conversion
Realtime UAD HEXA Core Processing for tracking through UAD plug-ins at near-zero latency, regardless of audio buffer size
LUNA Recording System—a fully-integrated recording application made for Apollo (Mac only)
Compatible with Logic Pro, Pro Tools, Cubase, Ableton Live and more
Surround monitor controller up to 7.1 format
UAD HEXA Core processing onboard for additional mixing horsepower for Pro Tools, Logic, Cubase, Ableton and other major DAWs
Combine up to 4 Thunderbolt-equipped Apollos and 6 total UAD devices; backward-compatible with Thunderbolt 1 and 2 Macs via optional adapter
Selectable +24 dBu operation for easy compatibility with professional mixing consoles and tape machines
Uncompromising UA analog design, superior components, and premium build quality
Free, industry-leading technical support—on the phone and online—from knowledgeable audio engineers