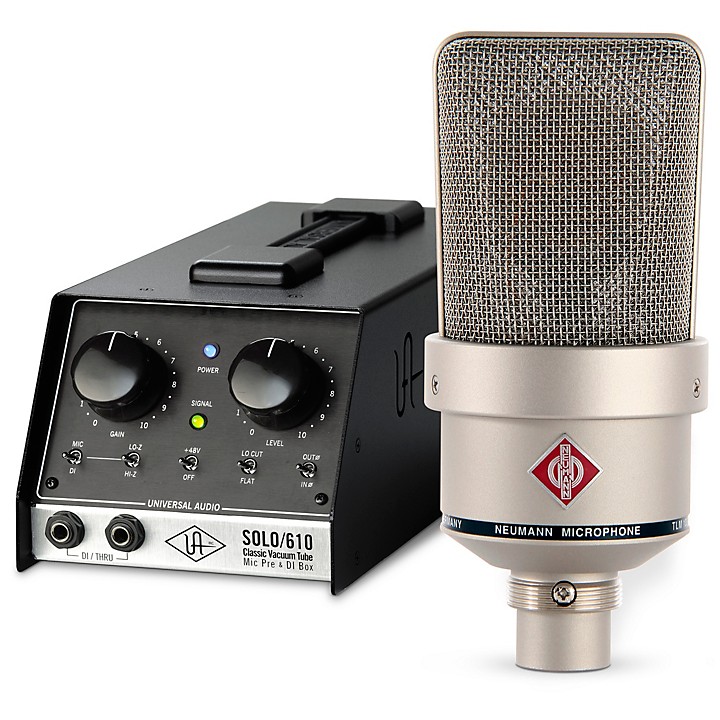 All-tube vocal chain bundle with microphone.
The Universal Audio SOLO Vocal Chain Bundle is designed to deliver the classic sound of the Putnam 610 console. The all-tube SOLO/610 provides the silky vintage warmth of the original UA 610 console used by artists ranging from Sinatra to Van Halen. Carefully created to maintain the character of its vintage predecessor with quality audiophile components, the UA SOLO features mic and DI inputs, Thru output, continuous gain and level controls, a gain-structuring Shape switch, 48V phantom power, lo-cut filter, phase reverse, ground lift and a versatile mic/line level output switch.

Also included is a Neumann TLM 103, which is fast becoming a standard for home recording and the music industry. The large-diaphragm Neumann TLM-103 microphone uses transformerless circuitry for ultra-low self-noise while handling high sound pressure levels up to 138dB. The TLM-103's cardioid polar pattern optimizes attenuation of unwanted sound and suppresses feedback.
Specifications
Input impedance: selectable 500ohms or 2kOhms (mic); selectable 2.2MOhms or 47kOhms (Hi-Z)
Frequency response: 20Hz-20kHz +/-1dB
Maximum gain: 61dB
Tube complement: 1 - 12AX7 and 1 - 6072
Features
World-class mic pre and DI
Classic Putnam 610 console all-tube sound
All-tube circuit path constructed of audiophile-quality components
Mic and DI inputs
Thru output
Gain, Level and impedance selection
Gain Shape switch
Mic/Line level output switch
48V phantom power
Lo Cut filter
Phase reverse
Ground lift
Rugged steel chassis construction