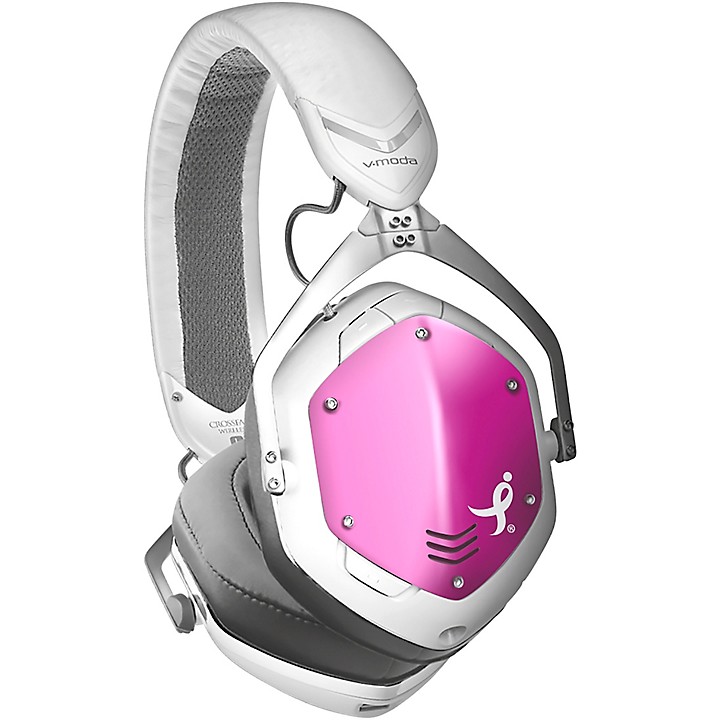 United by hope, V-MODA and Susan G. Komen present a special-edition headphone.
In 1980, Nancy G. Brinker promised her dying sister, Susan, that she would do everything in her power to end breast cancer forever. That promise became the Susan G. Komen organization, now the world's leading nonprofit in the fight against breast cancer. To date, the Susan G. Komen has invested more than $3 billion in advocacy, groundbreaking research and patient care and support programs.

Working to support those in need of help today, while tirelessly searching for tomorrow's cures, V-MODA and Susan G. Komen partnered together to release a special-edition Crossfade 2 Wireless Codex Edition headphone.

V-MODA's Crossfade 2 Wireless Codex Edition is a hybrid Bluetooth and analog (wired) headphone with virtually identical sound in either mode. It features Qualcomm's aptX for CD-quality audio over Bluetooth, Advanced Audio Codec (AAC) for the best sound performance on Apple devices along with a "universal" sub-band codec (SBC) for improved Bluetooth performance versus the standard protocol. There's also a hidden built-in microphone, specially tuned for phone calls and voice recognition along with an additional one-button SpeakEasy cable for wired mic use, included in the box.

Unlike other Bluetooth headphones that over-process, color and EQ headphone audio when in wireless mode, the Crossfade 2 Wireless Codex Edition can also be operated in wired mode by inserting an audio or mic cable right into the headphone jack to achieve zero latency—essential for professional and gaming use. Powered by dual-diaphragm 50 mm drivers and hi-resolution CCAW coils made in Japan, the Crossfade 2 Wireless Codex Edition is certified by the Japan Audio Society (JAS) to Hi-Res Audio standard when cabled.

Specifications
Type
Ear coupling: Over-ear
Operating principle: Closed
Primary application: General listening
Secondary application: Home use
Audio
Frequency response: 37Hz–22kHz
SPL: 100dB
Driver size: 50 mm
Noise cancelling: No
Other
Weight: 0.68 lb.
Cable type: Straight (detachable)
Cable Length: 52"
Connector: 1/8" with 1/4" adapter
Built-in mic: Yes
Bluetooth connectivity: Yes
Features
To support the fight against breast cancer, 30% of the proceeds from this collaboration will go directly to Susan G. Komen, now through May 8, 2022
V-MODA award-winning signature sound (45+ Editors' Choice Awards) both in wireless and wired mode
Qualcomm aptX audio codec for CD-quality wireless audio playback + AAC and SBC codecs for universal compatibility
Lithium-ion battery provides up to 14+ hours of continuous music, entertainment, and calls; 30-minute FastCharge with 4-hour playback; unlimited hours in wired mode
Dual-diaphragm 50 mm drivers and hi-resolution CCAW Japanese coil for Hi-Res Audio certification (JAS) when cabled
Large memory foam cushions and SteelFlex headband provide comfort for extended listening sessions and natural noise isolation