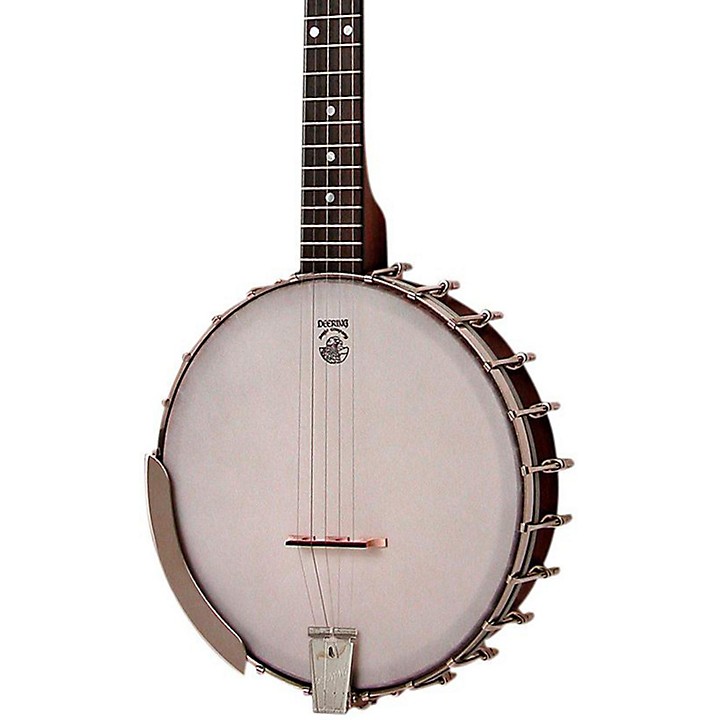 Better-quality affordable five-string.
When you step up to a Little Wonder Banjo, you get a banjo featuring a durable ebony fingerboard, which gives you the look and feel of a professional instrument. Both the comfortable neck and quality rim are stained a deep warm brown. The pot has a coordinator rod that easily and accurately adjusts the banjos "action" or string height for easy playability. The peghead of the maple neck is overlaid with black, and is inlaid with a white Vega logo and beautifully engraved star.

The Little Wonder banjo is fully adjustable through the truss rod in the neck, the coordinator rod, and the Deering True Tone tailpiece. Planetary tuning machines come standard on the Little Wonder. It is bright, responsive and full of life, and is easy to take with you anywhere you go.
Specifications
Deep, warm brown stained maple
Slender Vega neck shape
22 pressed in nickel silver frets
Adjustable truss rod
Ebony fingerboard and nut
Deering planetary tuners
Deering geared fifth string tuner
3-ply violin grade maple rim
Shoe and screw bracket assembly
Beveled tension hoop
24 flat hooks and 9/32" hex nuts
11" medium collar frosted top head
Coordinator rod for adjustments
Nickel-plated hardware
Deering True Tone tailpiece
Slender Deering armrest
Durable and elegant satin finish
Includes a Deering hardshell case
Lifetime manufacturer's warranty ensuring the quality of materials and workmanship
Tone
Bright, responsive and full of life
Tuned
G,D,G,B,D in standard tuning
Can easily be tuned in other tunings as well
Dimensions:
Neck width at the nut: 1-1/4"
Scale length nut to bridge: 26-1/4"
Diameter: 11"
Overall instrument length: 37-1/2"
Weight: 5 lb.
Features
Beautiful and rich finish
Easy playability
Fully adjustable
Hardshell case incuded