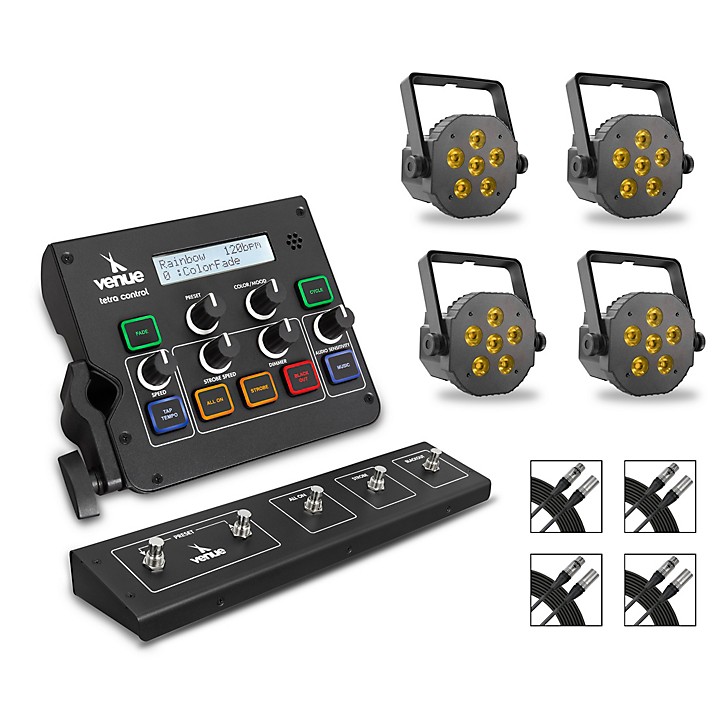 Automatic lighting control to make your set epic
The Venue Tetra Lighting Package puts the spotlights on you with a Tetra Control DMX Controller, Tetra 6 Wash Light and Livewire Advantage DMX cables.
Tetra Control DMX Controller
The Venue Tetra Control allows musicians, DJs, singers or any performer to effortlessly and automatically control impressive light shows without any knowledge of complicated DMX programming. With an easy-to-use, pre-programmed auto-cycle mode, bands and DJs can now have impressive light shows, and interact with instant strobes, all-on lights or blackouts to add dramatic effects instantly. There are more than 30 chases to choose from, as well as backlit real-time controls. Tap Tempo and Audio Input options keep your lights on beat, while Color Fade and Cycle modes provide the illusion of having your own lighting professional, keeping your show fresh by cycling through various programs. Includes a mic stand mount and foot switch controller to keep your hands free during your performance.
Tetra 6 Wash Light
The Venue Tetra 6 RGBA LED Wash Light offers six, 4-watt quad-color LEDs and several internal operating modes, providing a full palate of color control that includes 14 static colors, 20 standard chases, 20 sound-active chases, DMX control, Master/Slave capability, strobe, dimming, manual color mixing and more. Its double-yoke design provides precise aiming from stands, trusses and floors for complete venue coverage. For even more versatility, the Tetra 6 is compatible with DMX-512 operation, alongside controllers such as the Venue Tetra Control, and enjoy complete control in 3CH, 4CH, 5CH, or 6CH DMX mode. DMX In/Out jacks allow the use of multiple fixtures, as well as master/slave functionality. Power linking capabilities minimize the need for outlets and help keep cables clean and organized.
Livewire Advantage DMX Cable
Livewire Advantage DMX cables provide exceptional data accuracy for lighting control. 110 ohm serial-data cables feature rugged 3-pin XLR connectors with 120 ohm resistance and durable jacket. For best results, Livewire recommends a DMX Terminator be used on the last fixture in a daisy-chained series of fixtures. Quality connectors that meet professional standards.
Features
Package includes:
Tetra Control DMX Controller
Tetra 6 Wash Light
Livewire Advantage DMX cable
WARNING: This product can expose you to chemicals including Diisononyl phthalate (DINP) and Di(2-ethylhexyl)phthalate (DEHP), which are known to the State of California to cause cancer, and Di(2-ethylhexyl)phthalate (DEHP), which is known to cause birth defects or other reproductive harm. For more information go to www.P65Warnings.ca.gov.