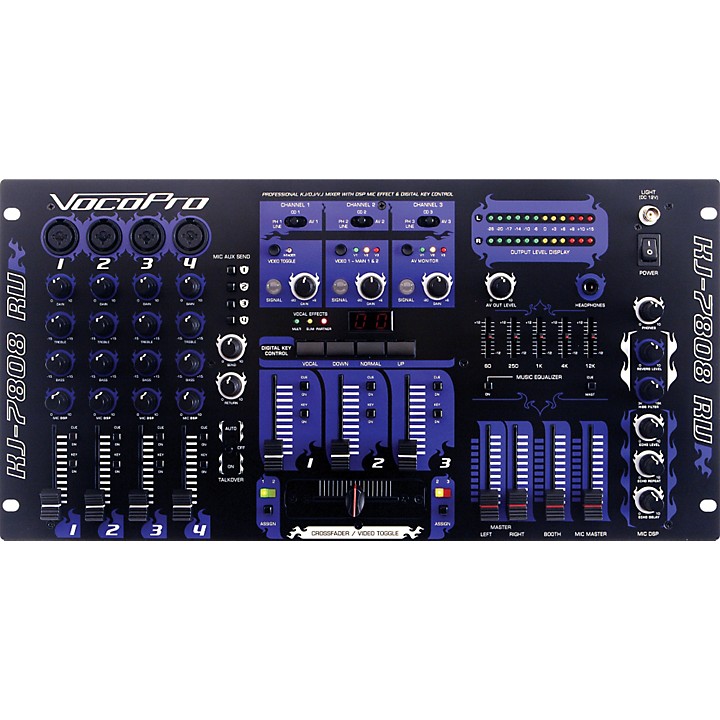 Become a KJ, DJ, and VJ expert with this all-in-one mixer.
The KJ-7808RV Pro DJ and Karaoke mixer allows you to be a KJ, DJ, and VJ all in one unit. For vocals, it has 4 microphone channels, each with Master volume sliders and controls for gain, bass, treble, and DSP level. You also get Vocal Reverb with level control, Vocal Echo with level, repeat, and delay controls, as well as a 5-band graphic EQ and assignable 11-step digital key controller. The Vocal Eliminator reduces or removes vocals from standard CDs so you can sing along with the real band, while the Vocal Cancel and Vocal Partner features are for use with multiplex CDs. For video mixing, there's a Video Select Toggle/Crossfader controller and two main video outputs with an extra RCA output for a monitor.

The KJ-7808RV mixer has tons of I/O power for microphones, auxiliary sources, video, and even a headphone. It's also got a 12V DJ lamp jack for professional production, talkover function, and LED Output Level Display meter.

For professional results in a rack mountable mixer that only takes up 6 spaces, pick up a VocoPro KJ-7808RV.
Specifications
I/O:
4 XLR / 1/4" microphone
3 L/R RCA audio
3 L/R RCA stereo CD (CD1, CD2, CD3)
3 L/R RCA stereo Phono (PHONO1, PHONO2, PHONO3)
3 RCA video (AV1, AV2, AV3)
1 Remote key control (1/8")
1 Balanced L/R XLR Master
1 Unbalanced L/R RCA Master
1 L/R RCA Record out
1 L/R RCA Auxiliary audio (A/V channels)
1 1/4" microphone (Mono)
1 L/R RCA Booth
2 RCA video (Main)
1 RCA video (monitor)
1 1/4" headphone
Features
Professional grade KJ, DJ, and VJ mixer with Video Select Toggle/Crossfader
DSP Vocal Reverb with Level control
Two main video outputs plus one more for use with a monitor (RCA)
DSP Vocal Echo with Level, Repeat, and Delay controls
All-in-one crossfader and video toggle automatically switches video when fading between audio channels
4 microphone channels, each with Master volume sliders and Gain, Bass, Treble, and DSP Level controls
5-band graphic equalizer for better fidelity and precision tuning
3 A/V channels, each with gain control, volume slider, and illuminating signal meter
Assignable vocal effects Send/Return channel with Send and Return level controls
Assignable 11-step digital key controller
Vocal Cancel and Vocal Partner for use with multiplex CDs
Vocal Eliminator reduces or removes vocals from standard CDs
LED Output Level Display meter
Talkover function with automatic mode
Headphone jack with level control
12V DJ lamp jack for professional production
19" rackmountable, requiring only 6 spaces