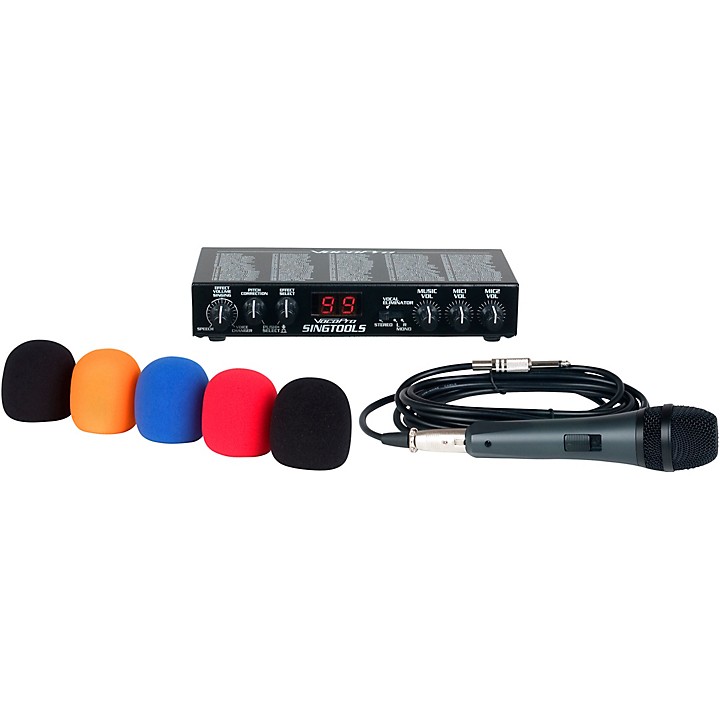 Features built-in DSP.
Love to sing? Want to sound like the artists on the radio with various vocal effects? VocoPro's new SingTools-Plus is a handy vocal effect mixer with powerful 24/56-bit Multi-DSP processing. SingTools-Plus offers 100 studio-quality vocal effects like harmonies, doubling and choir so you can sing like a star.

Not the best at singing? No problem. With its built-in assignable pitch correction, SingTools-Plus will make anyone sing in tune whether you are a beginner or expert. Assign the key you like to sing in and let the powerful DSP do the rest. The built-in pitch correction and 100 vocal effects are the perfect combination for karaoke and parties. The SingTools mixer will work with 1/8" or RCA inputs, so you can connect your smartphone, tablet, laptop or any CDG/DVD stereo system. Stream karaoke tracks from YouTube or sing with your existing CDG or DVD Library.

The SingTool-Plus bundle is conveniently packaged with a professional wired microphone, two rack ears and a 5-pack of windscreens. Pick up the SingTools-Plus bundle so you can start performing and sounding like your favorite artist today.

Specifications
Package Includes
1 SingTools Vocal Effects mixer
2 Rack ears
1 Professional wired microphone
1 Microphone cable
1 Power adapter
5-pack of windscreens
Features
100 vocal effects with powerful 24/56-bit Multi-DSP processing
DSP pitch correction will tune your voice to the range of any key you choose
Vocal Eliminator will reduce up to 90 percent of the original vocals that are recorded on the center channel of non-karaoke tracks
MPX Left/Right Mono Selector (Vocal Cancel) for Multiplex karaoke