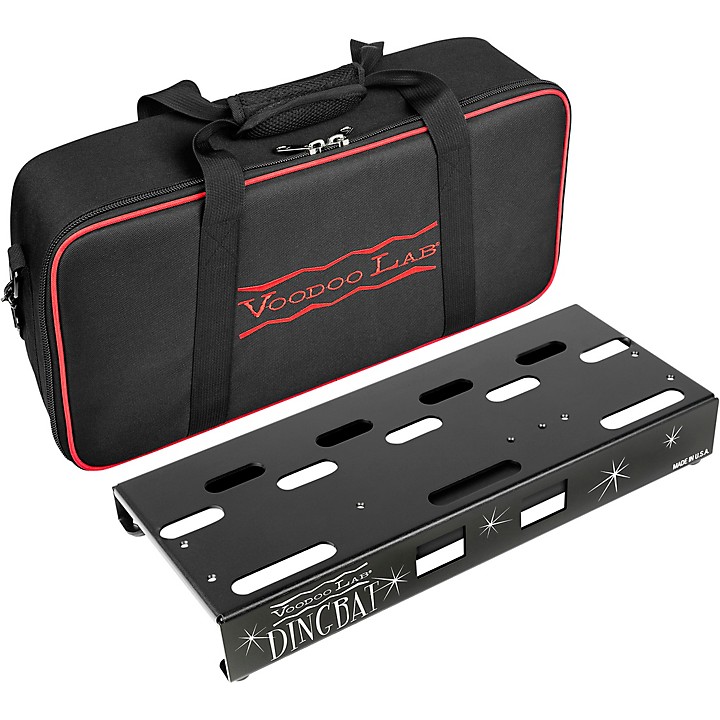 Perfect for organizing your stompboxes and hiding your cables.
Designed for seamless integration with industry-standard VoodooLab Pedal Power, the innovative patented Dingbat pedalboard delivers a rugged, lightweight platform for organizing pedals and keeping cables neatly tucked away and out of view. Each Dingbat is crafted in the U.S.A. from superior 6061-T6 aircraft-grade aluminum and includes a heavy-duty tour-ready gig bag.
Specifications
Pedalboard surface size: 18" x 7.5"
Gig bag dimensions and weight: 21" x 10" x 5.75" / 1.95 lb.
Made in the U.S.A.
Features
Innovative patented design
Crafted from lightweight 6061-T6 aircraft-grade aluminum
Factory-installed Pedal Power X8 featuring eight 500mA isolated 9V DC outputs
Onboard power operates at 100-240VAC for international touring
Pedalboard weight with power supply: 3 lb. (1.4kg)
Assorted power cable kit
Adhesive-backed hook-and-loop pedal mounting tape
UV-resistant cable ties and 4-way tie mounts
Professional tour-grade padded gig bag with premium YKK zipper hardware