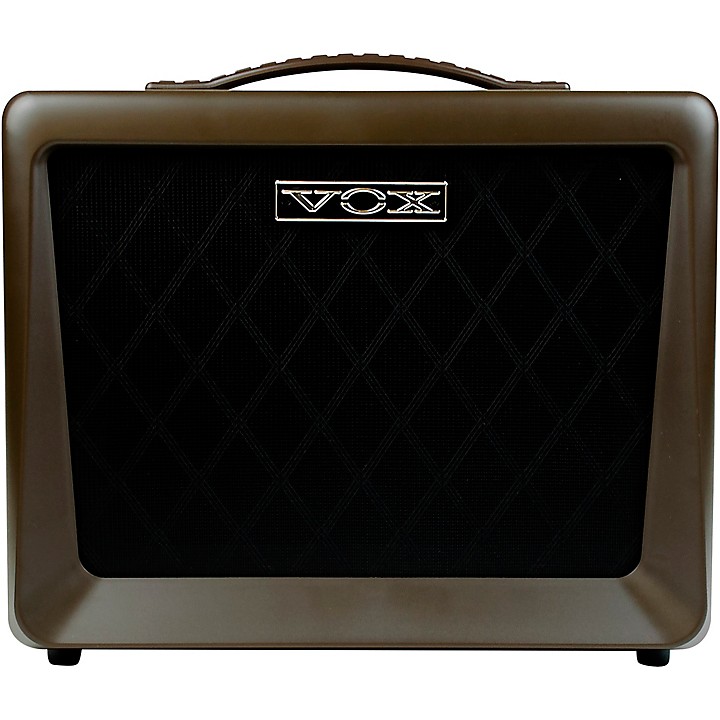 Deliver gorgeous acoustic and vocal performances with this portable, powerful combo.
The VX50 AG offers 50W of gorgeous Vox acoustic tone for live or studio performances. The highly portable combo features two channels and a mic input with phantom power to provide maximum versatility for vocal/instrumental play, as well as built-in chorus and reverb that can be used on both channels.

The VOX VX50 AG is a compact, lightweight and cutting-edge acoustic guitar amplifier with impressive 50 watts of output power and rich, natural tone courtesy of the Nutube-equipped pre-amp. Beyond its impressive sound, the VX50 AG provides both Instrument and Mic channels, each with their own independent EQs and on-board effects, and a host of input and output jacks, making it the perfect solution for gigging guitarists. Weighing in at only 9 lb., the VX50 is a fully-featured acoustic guitar amp that's perfect for all acoustic players.

The compact and lightweight VX50 AG is a compact 50 Watt amplifier designed specifically for acoustic guitar that features Nutube, the new vacuum tube, and an 8 in. coaxial speaker, plus a tweeter. With an uncolored, honest, and flat sound, it delivers beautifully rich sound that covers everything from detailed nuances to powerful strumming. The Instrument channel provides a three-band EQ, a phase switch, studio-quality chorus and reverb effects. The phantom power equipped Mic channel provides a two-band EQ as well as an on-board reverb for adding a bit of atmosphere to your vocals.

The VX50 AG also includes an aux. in for connecting your backing tracks, as well as a line out, that can be fed directly to a PA system. This fully-featured acoustic amp has everything you need to shape your sound!



Specifications
Power: 50W
Two channels
Two inputs: 1/4 in., XLR
Speaker: 1x8 coaxial, tweeter
Controls: 3-band EQ, chorus, reverb, volume
Built-in FX: Reverb, chorus
Aux. input
Line output
Bass-reflex construction
Weight: 9 lb.
Features
Ample output, and a specially‐optimized bass‐reflex structure to reproduce rich low‐frequency sounds
Coaxial speaker delivers extended high‐frequency playback
Equipped with a mic input that can provide phantom power, supporting vocalist/ instrumentalist performances
With a single knob, you can easily apply chorus and reverb to the guitar, and reverb to the mic