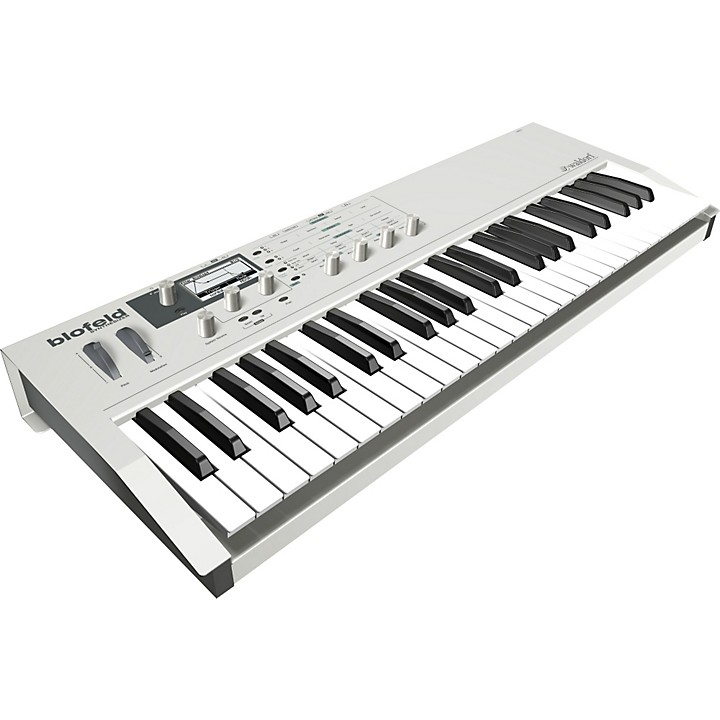 Virtual analog, wavetable, and sample-based oscillators combine for more musical opportunity.
The 49-key Blofeld keyboard is set apart by its user-friendly flexibility when it comes to sample memory. It enables the player to import his or her own sample libraries for near limitless sonic capabilities. As you can imagine, this feature opens up new creative pallets for the musician. This semi-weighted Waldorf keyboard has a very nice professional feel with velocity and aftertouch that players will quickly appreciate after only a few minutes of tickling the plastic ivories. Many of the award-winning features of the current Blofeld module also carry-over into this electronic keyboard. You still get a virtual-analog synthesis and classic wavetables, 60 megabytes of sample memory, pitchblend and modulation wheels, sustain pedal connection, a large graphic display, countless oscillator and filter modulations, endless stainless steel rotaries, and an internal power supply-all in a nice, sleek metal enclosure.

You also get Spectre, a free tool for creating and transferring sample content for Waldorf Blofeld Module with License SL upgrade installed and Waldorf Blofeld Keyboard (License SL not required for Keyboard). This is NOT a patch editor. Downloand the PC or Mac version and manual here: http://www.waldorfmusic.de/en/archive?relPath=blofeld/spectre.
Specifications
System Requirements
Windows ME minimum, Windows XP, or newer recommended
Mac OS X 10.2 minimum, Mac OS X 10.3, or newer recommended
Weight: approx. 17.65 lb.
Features
60MB sample memory
Virtual analog, wavetable, and sample-based oscillators
High-quality semi-weighted keyboard with 49 keys, velocity, and aftertouch
Internal power supply (100-240V, 50-60Hz)
Pitchbend wheel
Modulation wheel
Sustain pedal connector
Octave Up / Down buttons
Freely programmable button
Sturdy metal enclosure
7 endless stainless steel dials
Graphic display 128 x 64 pixels, B/W, white background LED
More than 1000 sounds
3 Oscillators per voice
Frequency modulation between oscillators
All Q oscillator models
All Microwave II/XT/XTk wavetables
2 independent multi mode Filters per voice
Filter FM
2 Drive stages per voice with selectable Drive Curves
3 Fast LFOs per voice
4 Fast Envelopes per voice
Freely programmable Arpeggiator Pattern with up to 16 steps per sound
Up to 25 voices
16 part multitimbral
More than 1000 sounds
8 buttons
MIDI LED
Volume control
Power switch
Stereo output
Headphone output
MIDI Input/Output
USB interface for MIDI In/Out
Uses standard USB MIDI driver provided by host computer OS
Per Voice
Poly, Mono, Dual, or Unisono Mode with selectable Voice Count
Frequency modulation between the oscillators
Oscillator synchronization
Ring modulator for Osc 1/2
Noise Generator with Noise Colour
Virtual analog models:
Pulse with Pulse Width Modulation and adjustable Brilliance
Sawtooth with adjustable Brilliance
Triangle
Sine
Wavetables:
Q Alt 1 and Alt 2 Wavetable with adjustable Brilliance
All wavetables from Microwave II/XT/XTk Series with adjustable Brilliance
Separate Wavetable selectable for Oscillator 1 and 2
2 independent Multi Mode Filters:
Filter FM
Resonance up to Self-Oscillation
Low Pass 24dB/12dB
Band Pass 24dB/12dB
High Pass 24dB/12dB
Notch 24dB/12dB
Comb Filter with positive/negative Feedback
PPG Low Pass Filter
2 Drive stages per voice with adjustable Drive Gain and selectable Curves:
Clip
Hard
Medium
Soft
Sine Shaper
Etc.
Modulation Matrix with 16 slots, freely programmable:
Modulation Speed far into Audio Range
Modulation Sources include all internal Modulation Sources plus various MIDI messages
Modulation Destinations for almost all continuous sound parameters
Various pre-routed Modulation Destinations with selectable sources:
Pitch Modulation
Oscillator 1/2/3 Frequency Modulation
Oscillator 1/2/3 Pulse Width Modulation
Filter 1/2 Cutoff Modulation
Filter 1/2 Frequency Modulation
Pan 1/2 Modulation
Amp Modulation
4 Modifiers for transforming Modulation Sources with various Algorithms
3 fast LFOs:
Syncable to MIDI Clock
Note Retrigger with adjustable Start Phase
monophonic LFO
Keytrack
4 fast Envelopes with selectable types
Single Trigger / Retrigger per Envelope
ADSR
ADS1DS2R (2 Decay/Sustain stages plus adjustable Attack Level)
One Shot
Loop S1S2 (Loop between Sustain 1 and 2)
Loop All (Loop over all stages)
Per Part
1 Effect slot per part 1-4
Powerful Arpeggiator:
Hold and One Shot modes
Syncable to MIDI Clock
Direction Up, Down, Alternate
Range up to 10 octaves
Various methods to modify Note Sort Order
Freely programmable Arpeggiator Pattern with up to 16 steps per sound
programmable per Step:
Accent
Timing
Length
Glide on/off
Pause
Chord
Previous note
Random not from Note List
First and/or last note from Note List
1 Effect slot globally for all parts Effect types:
Chorus
Flanger
Phaser
Overdrive
Triple FX (S&H, Ring Modulation, Chorus)
Delay (only available on global Effect slot)
Clocked Delay (only available on global Effect slot)
Reverb (only available on global Effect slot)