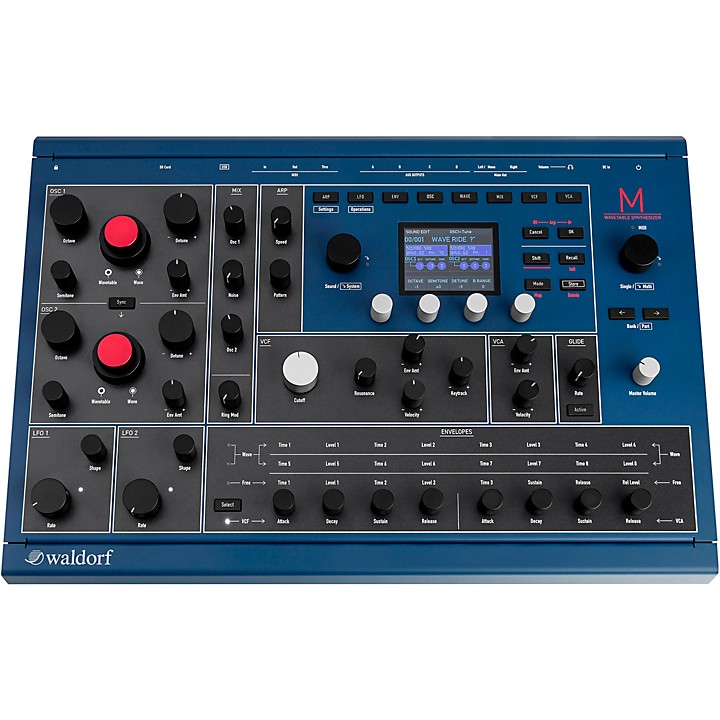 Classic and modern microwave tone combine in this next generation wavetable synthesizer.
The Waldorf M synthesizer is a wavetable synthesizer that evokes and expands upon the legendary Waldorf Microwave I and II in a powerful, modern, hybrid desktop synth. Featuring an analogue lowpass 24 dB/Oct VCF with an analogue saturation feature, true stereo analoge VCA with panning option and much more. Explore your musical creativity in a desktop-friendly form factor featuring a wide range of settings and unique sounds. The Waldorf M is packed with 2,048 sound programs divided into 16 banks, each with 128 sounds professionally programmed by world renowned sound designers. These include all of the classic Microwave sound sets, such as MW1 Factory Sound Set, MW1 Soundpool 1-5, the fat-sounding Analog and Bassco, as well as PPG Wave 2.3 sounds cleverly converted for the original Microwave.

Two LFOs, each generate a periodic waveform with adjustable frequency Rate and Shape can be used for modulation purposes. However, unlike other Waldorf synthesizers, there is no modulation matrix in M. This unit again pays tribute to vintage Microwave models with modulation facilities set up directly on the corresponding display page. This Waldorf M synthesizer takes performance to a whole new level, thanks to an advanced ARP with 16 preset patterns, chord mode and an ability to synchronize to a MIDI clock. Plus, four programmable Envelopes allow for adventurous users to manipulate sound parameters via rate or timed modulations.
Specifications
Oscillators: 2 Wavetable oscillators with independent wavetables and two different tone generation models
96 Factory Wavetables + 32 slots for User Wavetables
Analog low-pass 24 dB/Oct VCF (SSI 2144 Improved Ladder Type) with saturation
Analog stereo VCA for each voice
4 Envelope Generators; 8-point loop-able time/level Wave envelope generator, VCF and VCA ADSR envelopes
2 LFOs with different waveforms
Arpeggiator with 16 preset patterns, chord mode and the ability to sync to MIDI clock
2048 Sound programs + 128 Multi programs
Polyphony: 8/16 voices polyphony (16 voices available with the expansion board installed)
Features
Wavetable synthesis with two tone generation models
Analog low-pass 24 dB filter and a stereo analog VCA for each voice.
Eight voices expandable to 16; four-part multi-timbral