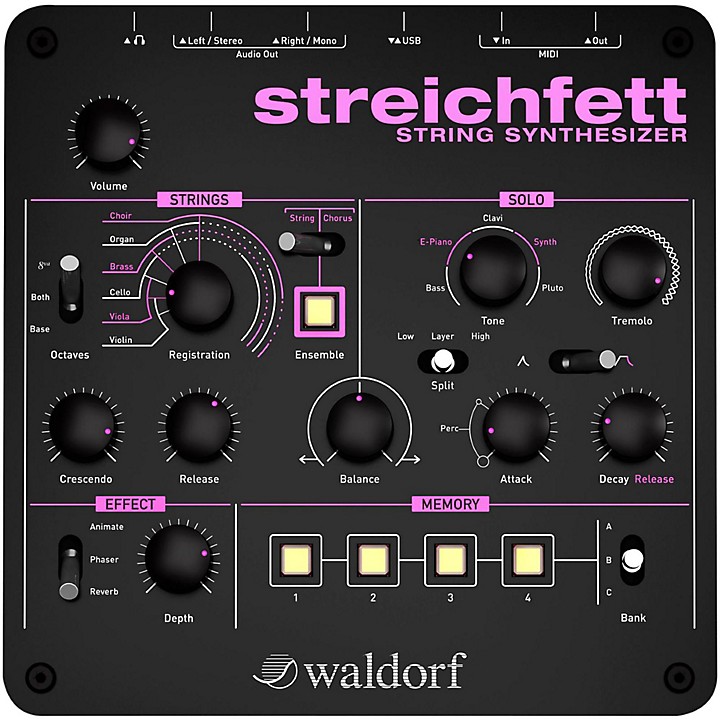 Desktop synth module with the flair of 70's funk and soul.
Streichfett is an ultra compact desktop synthesizer that combines the best qualities of some of the most legendary String Synthesizers of the 70s and early 80s. Its dual sound engine features a fully polyphonic strings section and an eight voice solo section, which is essential for recreating some of the most iconic sounds from 70's funk, disco and beyond. The Strings section gives you a choice of Violin, Viola, Cello, Brass, Organ or Choir with an Ensemble Effect, while the Effects section adds adjustable Phaser and Reverb. Additionally, the Animate Effect can be used to modulate the strings registration, allowing spectacular sound morphs.

The Solo Section offers a range of presets including Bass, E-Piano or Clavi, Synth and Pluto, each offering a unique characteristic creating shimmering and slightly percussive sounds that blend well with the string section.

Although the User Interface is simple and easy to comprehend, it controls a rather complex sound engine, which is capable of delivering rich and decadent pads that will fill-up the missing space in your songs.

The memory section can store up to 12 user patches for easy recall of your previous sound designing masterpieces, while the on-board USB and MIDI connectivity make integrating this unit with today's studios a no brainer.

Features
128 voice fully polyphonic Strings section
Continuous morphing of Violin, Viola, Cello, Brass, Organ, Choir and more Registrations
Animate Effect for Modulation of Strings Registration
Ensemble Effect for Strings
Eight voice polyphonic Solo section
Layer/Split for Solo section
Continuous morphing of Bass, E-Piano, Clavi, Synth, and Pluto for Solo Tone
Tremolo for Solo section
Phaser
Reverb
12 programmable patches
Stereo output
Headphone output
USB
MIDI in/out