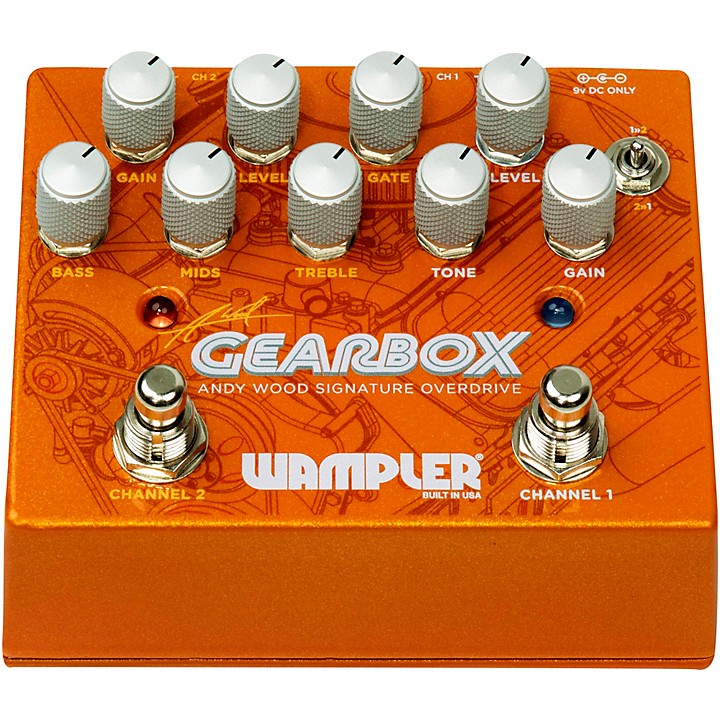 Versatile overdrive pedal for southern inspired guitar.
The Gearbox Andy Wood Overdrive Effects Pedal from Wampler is the signature overdrive pedal of one this generations' most influential guitarists. After demonstrating his outstanding electric guitar skills by being crowned champion of Guitar Center's "Guitarmageddon" competition at only 22 years of age, Andy went on to tour professionally with a wide range of acts including Rascal Flatts, Gary Allan, Locash, Scott Stapp and Sebastian Bach. Andy has definitively blurred the lines of preconceived genres with his most recent album, "Junktown", a masterpiece of different guitar styles and progressive southern inspired fusion. "Junktown" was recorded with a prototype of what is now the Wampler Gearbox Andy Wood Signature pedal.

The Gearbox features modified versions of two of Brian Wampler's best loved drive circuits: the Tumnus and the Pinnacle. This combination makes the Gearbox one of the most versatile dual pedals Wampler has ever created. A top-switchable stacking order control, dual inputs and outputs, a unique noise gate and premium quality components make the Gearbox the single pedal solution that delivers.
Specifications
Dimensions
5" x 4.5" x 1.5" - height excludes knobs and switches

Features
Dual Independent drives based on two of Brian Wampler's Classic Circuits - a Tweaked Tumnus on Channel 1 and a modified Pinnacle on Channel 2
Independent Volume and Gain controls for both channels, Tone Control for channel 1, Bass, Middle, Treble and Noise Gate controls on Channel 2
Channel Order switch with two pairs of Input and Output jacks
Power draw: 52mA at 9v
9v power jack - DC supply only, do not exceed 9v DC, battery Included
Manufacturer's Limited 5-Year Warranty