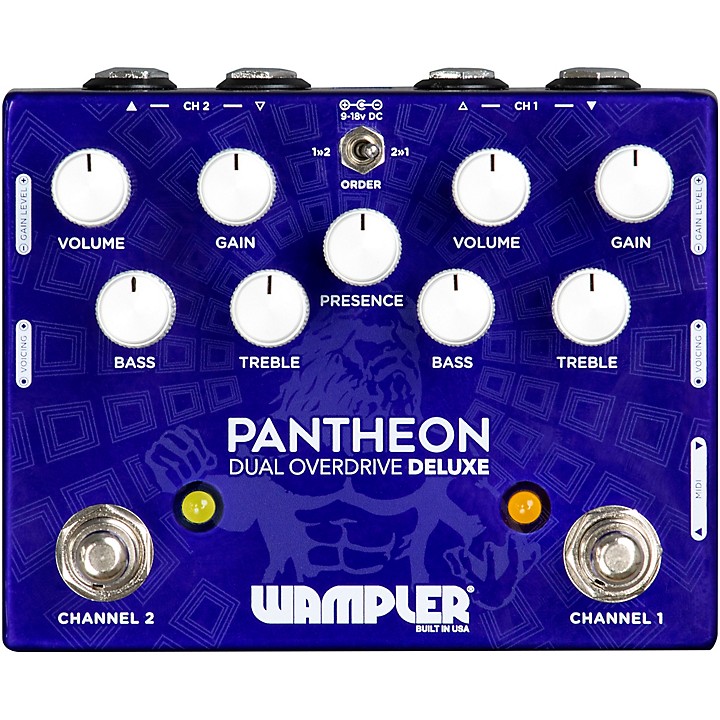 A powerful evolution of the Pantheon overdrive pedal.
The Wampler Pantheon Deluxe is a dual overdrive effects pedal that takes the classic "Blues Breaker" style of the original Pantheon several steps further by offering a flexible design with two completely independent Pantheon circuits. One is voiced as a classic blues breaker and the other with a more modern boutique sound. This palace of tone delivers a staggering 200 combinations of gain settings, featuring dual inputs and outputs and MIDI channel switching. The Pantheon Deluxe lets you dial in two channels of organic creamy gain, gritty overdrive or heavy distortion while retaining Wampler's famous ease of use and flexibility. Channel 1 delivers a classic Blues Breaker tone and Channel 2 is a recreation of the original Pantheon, a similar circuit to the Blues Breaker but with a modern boutique feel. Independent side-mounted Voicing and Gain Level switches allow you to further shape your tone to perfection.

Each channel of the Pantheon Deluxe Dual Overdrive feature independent Gain, Level, Treble and Bass controls to enhance the shaping of your tone. The Baxandall-style active Bass control is neutral at noon but boasts an extremely powerful sweep as you move through the range. A single global Presence control simultaneously alters each channel to add just the right amount of top-end chime to suit different guitars and amplifiers, perfect for when playing live or when in the studio.
Specifications
Power draw: 55mA
9-18V power jack: DC supply only, do not exceed 18V DC, battery included
Features
Dual independent drive channels using Brian Wampler's classic Pantheon circuits
Channel 1 Classic Blues Breaker voicing, Channel 2 Modern Boutique voicing
Independent Volume, Gain, Treble and Bass controls for both channels
Global Presence control
Front-mounted Channel Order switch
Side-mounted independent Gain Level and Voicing switches
MIDI In and Out (3.5mm TRS)
Two sets of input and output jacks
Manufacturer's limited 5-year warranty