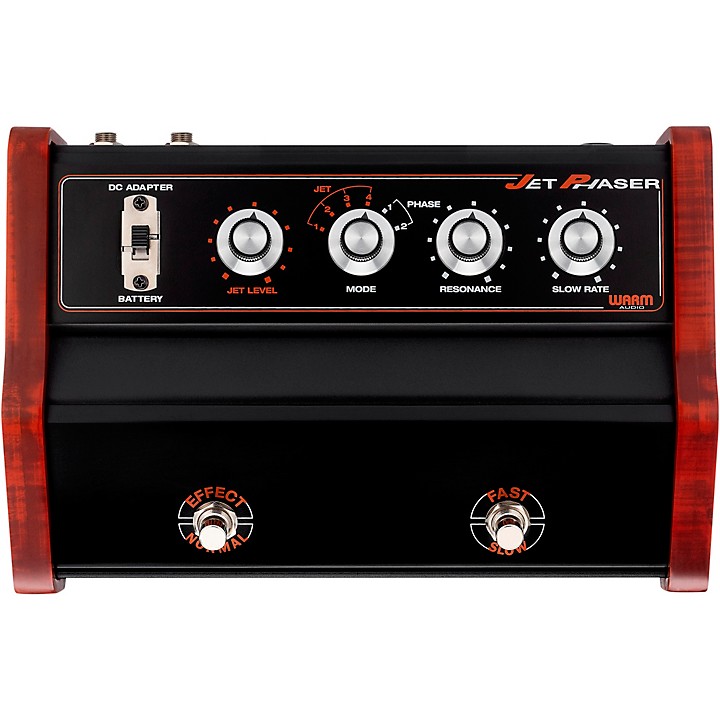 Warm Audio recreates a '70s classic.
Warm Audio's recreation of this classic 1970s effect brings all the swirl, swoosh and sweep of the an iconic phaser effect to modern guitarists. Updated with true-bypass operation, this super authentic recreation of the classic design favored by guitarists, bassists and keyboard players alike, brings you all the sound and vibe of vintage units without the vintage price. Combining deep and shallow phasers with fuzz tones recreates that classic hypersonic jet swoosh for some serious sonic fun. The Fast/Slow footswitch has a ramping effect for a rotary speaker-type operation, and the resonance control lets you go from subtle to over-the-top with the twist of a knob. Runs on two 9V batteries or the included 18V power supply.

Specifications
Six modes: JET (1–4), PHASE (1–2)
EFFECT/NORMAL and FAST/SLOW foot switches
JET LEVEL, MODE, RESONANCE, and SLOW RATE knobs
1/4" Input and Output jacks
DC ADAPTER/BATTERY switch
Powered by two 9V batteries or 18V DC adapter (included)
Power consumption: 9mA
Width: 10.25"
Depth: 6.5"
Height: 2.25"
Weight: 4.6 lb.
Features
Faithful recreation of the original "jet" phase circuit, true-bypass operation
Uses premium components throughout, including carbon film resistors and film capacitors
Rugged steel chassis with attractive wooden side panels
Gradual rate change when FAST/SLOW switch is pressed, simulating a rotary cab