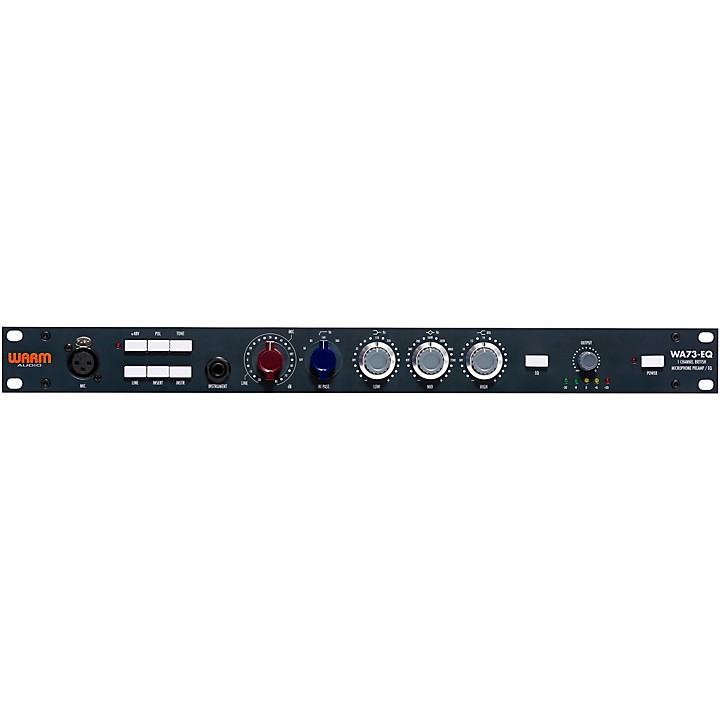 A single-channel '73 preamp with built-in EQ.
If there's one style of preamp that professional engineers would unanimously agree has defined the tone of pop/rock records for decades, it would most definitely be the venerable '73-style of mic pre. '73-style preamps have been massively used in recording and live applications for many years and are still considered to be the "Holy Grail" of preamp choices today. The Warm Audio "WA73 Family" consists of single- and dual-channel '73-style preamps (with & without EQ), that each pay careful homage to British audio history.

This classic-style preamp is now enhanced with a 3-band EQ and high-pass filter to roll-off unwanted low-end boom. With it you'll sculpt the preamp's signal to perfectly tune your source instrument's output.
Features
Single-channel, Class A, '73-style british microphone preamp with EQ
UK-made Carnhill Transformers
Inductor based 3-band EQ with a high-pass filter and boost/cut rotary dials: low band (35, 60, 110, 220Hz), mid band (360, 700, 1,600, 3,200, 4,800, 7,200Hz) and high band (10, 12, 16kHz)