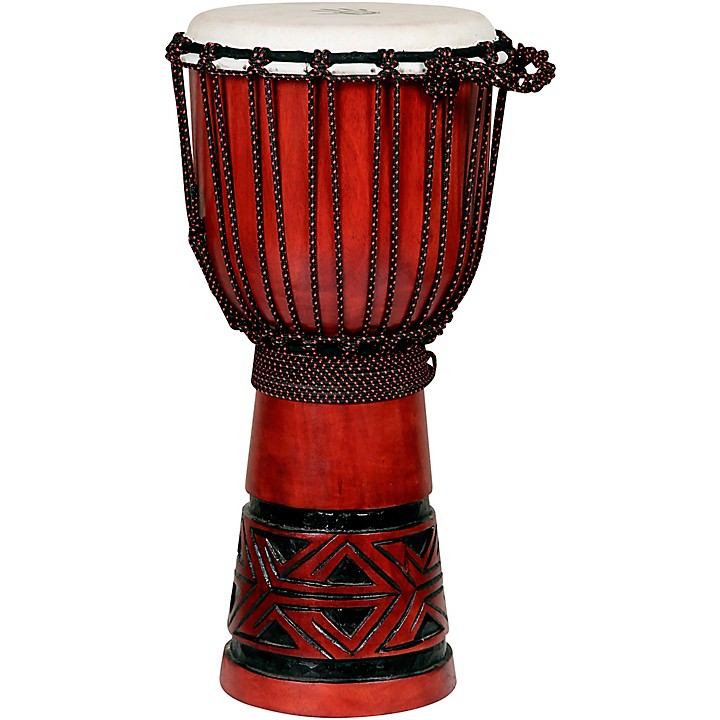 Hand-carved solid mahogany djembe drum with decorative Celtic pattern and natural goatskin head
The X8 Celtic Labyrinth Djembe is carved from solid, legally-harvested mahogany logwood that is lathe-turned for uniform thickness. Each drum features a hand-carved Celtic design on the base of the shell and a cherry stain wood finish. On the inside, rough surface carvings reduce overtones. The natural, unbleached goat skin drum head delivers a crisp response, and it stays that way through long playing sessions thanks to a 2-ring system and alpine nylon tuning rope. The portable 6.75" and 8" sizes come with a free fitted tote bag.

Note on sizing: The sizes listed are the average measurements for that model drum. Since every Celtic Labyrinth Djembe is hand-carved and therefore unique, the exact measurements can vary by up to 1 inch.

Features
Djembe drum made from solid mahogany in cherry stain finish
Hand-carved Celtic design makes each drum unique
Lateral grooves carved into interior reduce unwanted overtones
Natural, unbleached goatskin head
5mm HTB alpine nylon rope tuning system
Available sizes range from 6.75 to 12" in diameter
Free fitted tote bag included with 6.75 and 8" models