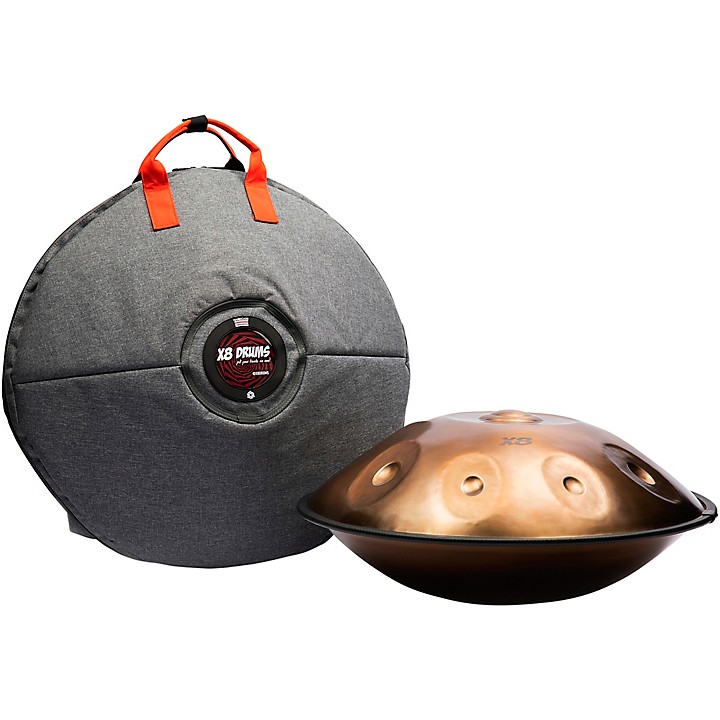 Ethereal, captivating tones to soothe and inspire.
The X8 Gold Series Celebration E Pakmoon handpan features a warm golden finish, a double-layer ding dome for more lasting tuning and a fastener on the "belt" with the X8 logo. It is built by masters of the trade, and crafted and tuned by hand. Play it acoustically, or add a pickup to amplify your sound—you can also remove the belt to increase the resonance. The Celebration E Pakmoon is tuned with a center note and eight additional notes, allowing you to create rich, full songs either as a solo artist or as part of an ensemble. Comes with a heavy-duty padded backpack case.
The unique, ethereal and mysterious sound of the steel handpan is captivating, with the soothing tones taking the listener on a spiritual journey. It has been used lately in modern, EDM, sound therapy and as musical accompaniment for spiritual activities such as yoga or meditation. Pakmoon ("honeymoon") is a handpan scale written and named by the famous Chinese handpan player 'He Boman' and named after his English name. It is a major scale and has an ideal overtone column setting and scale layout, which can best stimulate the natural resonance and echo of the tone scale. It is suitable for solo playing as well as improvisation and overall accompaniment.
Specifications
Weight: 10 lb.
Diameter: 23"
Height: 10.5"
Features
Tuning: E Pakmoon
Material: Stainless steel
Center Note: E3
Tones: E3 / G#3, A3, B3, E4, F#4, G#4, A4, B4
Handpan belt color: Blue
Gold finish
Includes heavy-duty padded backpack case