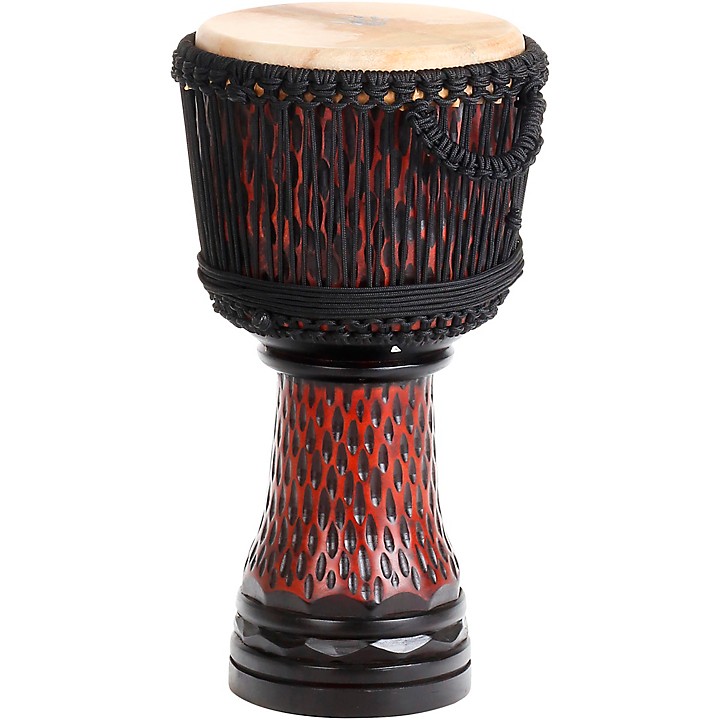 Hand-carved mahogany djembe with distinctive cheetah pattern
In keeping with the rest of the Elite Pro series, the hard-carved King Cheetah Elite Pro Djembe by X8 Drums delivers the absolute best in djembe construction and materials.

Named for an extremely rare breed of cheetah that has only been seen in the wild a handful of times, the King Cheetah is a specialty item, constructed to deliver pristine performance for the most advanced players and a smooth purr for beginners showing promise in the art of hand drumming. Only 30% of the certified mahogany logwood sorted for X8's professional lines will meet the criteria to become an Elite Pro, and each drum is then carved and lathed by hand, meaning every instrument is unique. In addition to the exterior patterns, the carving process also adds rough patterns on the inside bowl of the djembe to reduce unwanted overtones. This makes the King Cheetah Elite Pro especially useful for recording.

X8 secures the premium goatskin head with a custom-forged steel neck ring that is specifically fitted and built for each model, meaning this drum will stay tight and in-tune. The tuning rope is 5 mm thick and made of X8's highest grade of low-stretch alpine nylon.

Note on sizing: the King Cheetah can be ordered in multiple sizes, but the inch measurements listed for each size are only an average. Since every drum is hand-carved and therefore unique, the measurements can vary by up to 1 inch.

Features
Premium djembe hand drum
Hand-carved extra thick from premium logwood
Custom "cheetah" pattern on outside of shell
Goatskin head with custom-forged steel ring
High-grade 5 mm nylon tuning rope