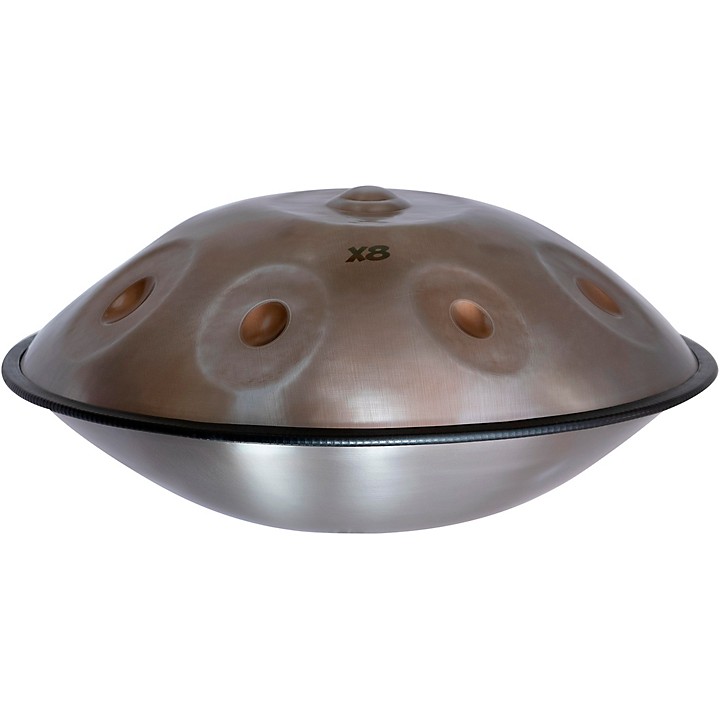 Stainless steel handpan with included carry bag.
The X8 Vintage Series handpan features a two-tone finish (key dimples are gold, pan is silver), a double layer ding dome for longer-lasting tuning and a fastener on the "belt" with the X8 logo. The unique, ethereal and mysterious sound of the steel handpan captivates everyone. The soothing tones take the listener on a spiritual journey. We're seeing this instrument used in modern, EDM, sound therapy and as musical accompaniment for spiritual activities such as yoga or meditation. This specific drum is tuned with a center note and eight additional notes, allowing artists to create rich, full songs either as a solo artist or as part of an ensemble.

The Pygmy scale is a form of Dorian pentatonic scale, a mode halfway between a minor and major scale. The presence of intervals can be interpreted as a fourth or a minor sixth, and the several repeated fifths deliver a deep and full scale that is brilliant and resonant, making it useful in several major and minor progressions. Its gentle and sweet sound inspires introspection and meditation.
Specifications
Material: Stainless steel (Provides more resonance and natural sustain than black nitrite)
Finish: Two-tone brushed steel (key divots are gold, pan is silver)
Tuning: F Low Pygmy
Center Note: F3
Tones: F3 / G3, Ab3, C4, Eb4, F4, G4, Ab4, C5
Handpan Belt color: Black
Weight: 10 lb.
Diameter: 23"
Height: 10.5"
Features
Includes heavy duty padded backpack
Remove the belt to increase resonance